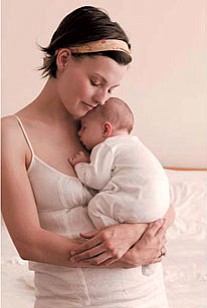 Stories this photo appears in:

Multi-tasking her way through motherhood
Modern motherhood is a far cry from yesteryear. Just preparing breakfast, for instance, today requires careful planning and dutiful attention to what is best for children. These days, the familiar bowl of breakfast cereal is often paired with organic, soy or even almond milk. Should you prepare "free range" or "natural eggs?" Forget the Colonel or Chicken McNuggets for lunch. Now moms shop for hormone-free, organic, or "cruelty-free" raised chicken breasts.