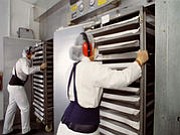 Stories this photo appears in:

Study found too few are protecting their hearing, despite exposure at work, home
Almost 58 million Americans are exposed to loud noises at work and home, but too few try to protect their hearing, a new study finds. "This noise exposure epidemic had not really been quantified at the household level in the U.S.," said study senior author Dr. Neil Bhattacharyya, an associate chief of otolaryngology at Brigham and Women's Hospital in Boston. "This degree of noise exposure has the potential to cause long-term hearing consequences with our aging population. Health care providers should actively identify and encourage the use of hearing protection in patients at risk," he said in a hospital news release.