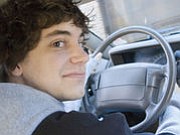 Stories this photo appears in:

They slow down and drive less aggressively after an accident, monitoring finds
No matter how often teenagers are told to drive safely, some might not heed that advice until they are involved in a crash, new research suggests. The study included 254 teens, ages 16 and 17, who were participating in a driving study. Their cars were equipped with cameras and a device to measure acceleration, and researchers analyzed their driving habits.