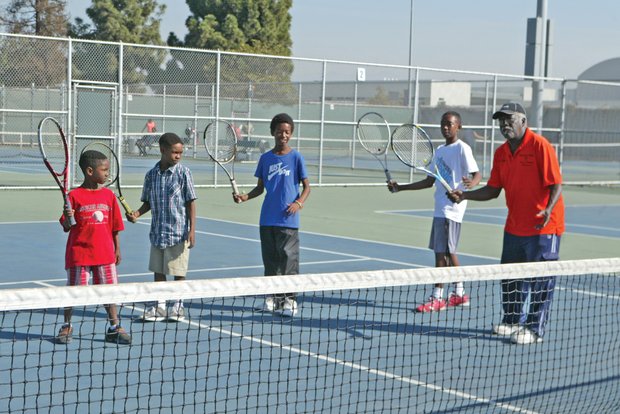 Richard Williams instructs young tennis players at the Rancho Cienega Sports Complex./OW photo by Jason Lewis.
Stories this photo appears in:
Duo runs the Venus and Serena Williams Tennis Academy at the Rancho Cienega Sports Complex
In the tennis world, the Williams sisters are royalty, as Venus and Serena have continued to rack up Grand Slam titles and Olympic gold medals. But they are not the only well known Williams siblings. The Williams brothers, Richard and Fred (no relation to the Williams sisters), have made their mark on the sport for more than 40 years, and they have helped more than 200 young tennis players obtain college scholarships. Most of those players are young Black kids from South Los Angeles. The Williams brothers played a role in developing the Williams sisters, as Venus and Serena trained under Richard and Fred at Rancho Cienaga Sports Complex when they were kids. The Williams sisters' father, Richard Williams, was the driving force behind his daughters becoming dominant tennis players. He learned how to play tennis during his younger days, and he was first taught the game by Richard Williams, brother of Fred. Knowing that the Williams brothers knew their stuff, father Richard would drop off his daughters to them for training.