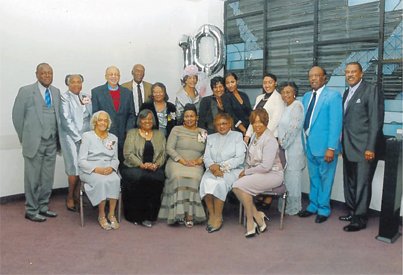 Members and supporters of the Carson Top Ladies of Distinction commemorate 10 years of service to the community. Pictured from left (front row) are Eulah Williams, Gloria Turner, Belinda Sumpter, Mary Louise Batiste, and Councilwoman Lula Davis-Homes. Back row: Willie Wilkins, Meredith Barrett-Wilkins, Preston Kelley, David Turner, Doris Kelley, Beatrice Nelson, Dominique McMillan, Imani McMillan, Morgan Strickland, Vera Rhone, Loymon Batiste, Brian Sumpter.
Stories this photo appears in:

Members of the Carson Chapter of Top Ladies of Distinction, Inc. (TLOD), and its affiliate, Top Teens of America, celebrated 10 years of humanitarian service to the city of Carson this week. The event which featured a raffle, silent auction, and a buffet reception, took place at the Carson Community Center located at 801 East Carson Street, Carson.