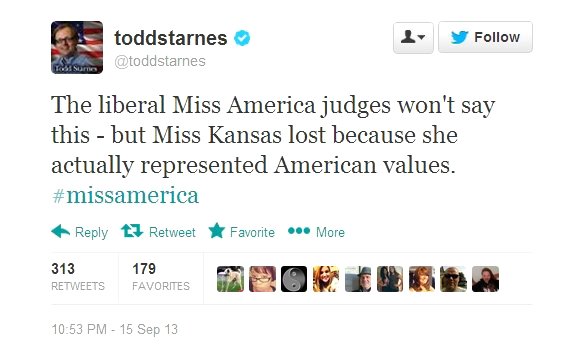 Indian-American Nina Davuluri Won Miss America 2014, but New York-based Fox News & Commentary radio host Todd Starnes isn't pleased with the pick. In tweets Starnes said, "The liberal Miss America judges won't say this - but Miss Kansas lost because she actually represented American values. #missamerica" and "Miss Politically Correct America #missamerica" as well as "Miss Kansas, a gun-toting, deer-hunting, military veteran was America's choice - but not the liberal Miss America judges' choice."
Stories this photo appears in:

Racists took to Twitter to lambaste the pageant for picking an Indian-American
I was the first Indian Miss New York, and I'm so proud to be the first Indian Miss America, Nina Davuluri said after she won.