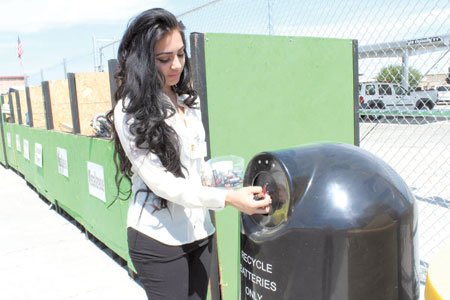 Resident disposes of used batteries at Lancaster's 24-Hour Recycling Center.
Stories this photo appears in:
The city of Lancaster received an award from the California Resource and Recovery Association (CRRA) for "Most Outstanding Household Hazardous Waste/Universal Waste and E-Waste Program of 2013," recognizing the city's 24-hour recycling center.
First 250 attendees receive tickets to the Antelope Valley Fair
In order to commemorate the success of Lancaster's 24-Hour Recycling Center which significantly reduces illegal dumping throughout the Antelope Valley, and to raise awareness about recycling, the city is hosting a free e-waste and used oil, cooking oil, and antifreeze recycling event on Aug. 3-4.