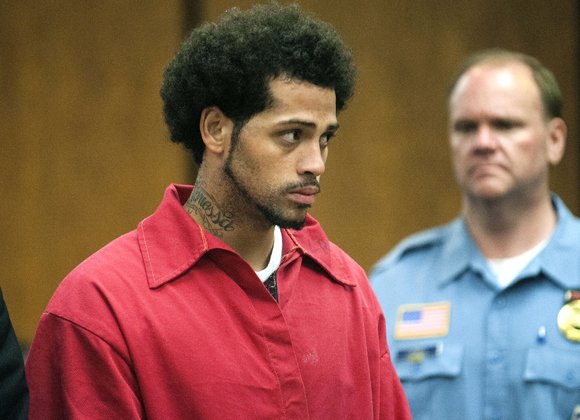 A man arrested in Connecticut in connection with the murder case against former New England Patriots tight end Aaron Hernandez is on his way to Massachusetts. A judge in Bristol, Conn., ordered Carlos Ortiz turned over to Massachusetts authorities during a hearing Friday morning. Ortiz has been charged in Connecticut as a fugitive from justice. He had waived extradition to Massachusetts and was being held on $1.5 million bail in Hartford. New Britain State's attorney says investigators arrested the 27-year-old Ortiz in Bristol on Wednesday as part of the probe into the slaying of Odin Lloyd. Hernandez is charged with murder in the slaying of Lloyd near Hernandez's North Attleborough home. Hernandez has pleaded not guilty and is being held without bail.
Stories this photo appears in:

Probable cause hearing on murder charge delayed
BOSTON, Mass. — A Massachusetts judge on Wednesday granted prosecutors' request to delay a probable cause hearing in the case of Aaron Hernandez, a former New England Patriots player charged with murder.