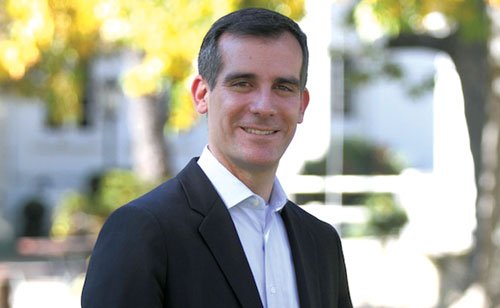 Los Angeles Mayor Eric Garcetti.
Stories this photo appears in:
President Barack Obama today appointed Los Angeles Mayor Eric Garcetti to a task force overseeing federal efforts to guard against droughts, floods, wildfires and storms related to climate change.
Los Angeles Mayor Eric Garcetti talked about revitalizing the Los Angeles River and creating a series of parks along the largely concrete-lined waterway at Rep. Lucille Roybal-Allard's "LA River Day" event in Washington, D.C.
'Prayer rally' at Leimert Park tonight
LOS ANGELES, Calif. — In the aftermath of Southland protests over the acquittal of a Florida neighborhood watch captain who killed 17-year-old Trayvon Martin, Mayor Eric Garcetti cut short an East Coast trip and planned to return to Los Angeles today.

'We have minorities disenfranchising minorities,' says Leo Terrell
In a letter to U.S. Attorney General Eric Holder, civil rights attorney Leo J. Terrell is asking the attorney general to become "an intervening party" to a lawsuit filed against the city of Los Angeles regarding the issue of voting rights violations involving the city's 2011-2012 redistricting process.