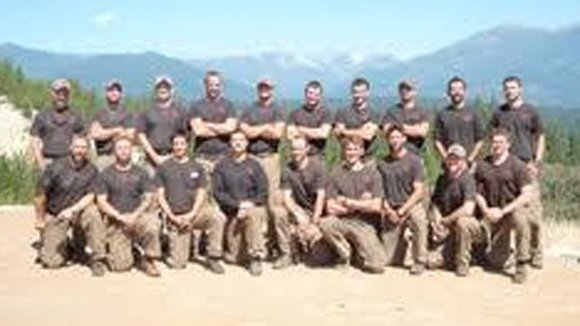 Nineteen firefighters were killed Sunday battling a blaze in Arizona, the state forestry division said. The vast majority were from Prescott, said Wade Ward with the Prescott Fire Department. State forestry official Art Morrison said the firefighters were members of a "hotshot" crew, tasked with digging a fire line and creating an escape route. "In normal circumstances, when you're digging fire line, you make sure you have a good escape route, and you have a safety zone set up," Morrison said. "Evidently, their safety zone wasn't big enough, and the fire just overtook them." The crew was fighting the Yarnell Hill fire, which broke out Friday northwest of Phoenix. The fire has grown to 1,000 acres, damaged three homes and forced the evacuations of residents in the communities of Peeples Valley and Yarnell, Morrison said. Authorities believe lightning sparked the blaze.
Stories this photo appears in:

Containment is officially listed at 8%
PRESCOTT, Arz. — Firefighters determined to snuff out a wildfire that killed 19 of their colleagues scoured the scorched earth near Prescott, Arizona, on Wednesday, searching for smoldering vegetation that could reignite and further spread the deadly Yarnell Hill blaze.