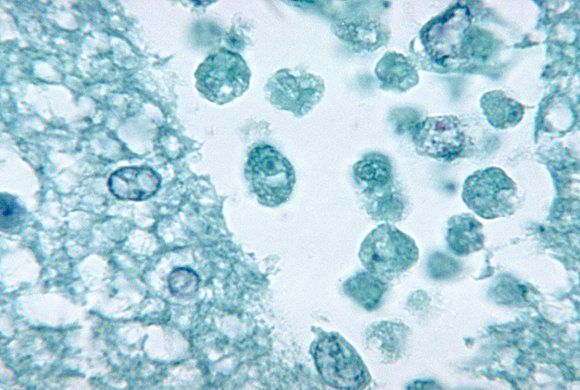 This photomicrograph of a brain tissue specimen depicts the cytoarchitectural changes associated with a free-living, Naegleria fowleri, amebic infection. Free-living amebae belonging to the genera Acanthamoeba, Balamuthia, and Naegleria are important causes of disease in humans and animals, though only one specie of Naegleria, Naegleria fowleri, causes disease in humans.
Stories this photo appears in:

Another child has been infected with a rare, brain-eating parasite, less than a month after Kali Hardig ended up in an Arkansas hospital, fighting for her life. The Centers for Disease Control and Prevention has confirmed another case of this amoeba, called Naegleria fowleri, in Florida, a spokesperson told CNN Tuesday.