Black woman is teaching welding in Los Angeles
Surviving in the male-dominated skilled trade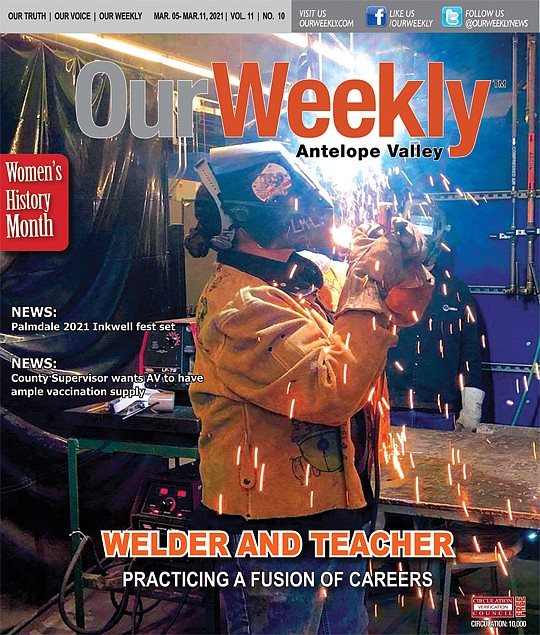 The welding trade is a unique profession for women, but it's the one that Lisa Legohn was inspired to enter when she was a young student at Hollywood High School and grabbed an opportunity to take a Watts Skill Center class.
"What captivated me, was when the instructor came out and said welding is the art of fusion," Legohn said, admitting that at the time she didn't know what fusion was. "I struck the arc and fell in love. This is what I want to do."
Thanks to the year-long Regional Occupational Program (ROP) training, Legohn was able to start welding professionally at 18, right after her high school graduation. Soon, she enrolled at Los Angeles Trade-Technical College (LATTC) to pursue her degree in welding.
"I like the way you can take apart entities and make them become one," Legohn said. "A bridge is only as strong as its weakest weld."
She continued working as a welder throughout college in order to build up her field experience.
After earning her associates degree, Legohn started attending classes through UCLA extension to learn about teaching techniques. She later went to Cal State Long Beach to earn her teaching credentials.
Soon Legohn found herself working full time as a pipe welder in the morning and teaching welding classes at night at Compton Community College. Today, she is a master welder and an associate professor of welding at LATTC.
"I once read that it's not where you are, but how far you've travelled to get there," Legohn said, explaining that a mentor counseled her about the welding profession and that her personal goals may conflict with it. Although she liked the work, the career was not an easy one especially for a female body.
"The strain it takes physically is tough," Legohn said, noting that the hard work could take welders all over the county or out of state.
"You're climbing on a 60 story building, hair all over your head, you're sweating, you're dirty. It can be hard physically. It's demanding. Women's bodies are different."
And sometimes work environments can be a challenge.
"The first time I used a porta potty, I almost fainted from the smell," Legohn said, forcing herself to work alongside her peers. "Ok, I gotta do what I gotta do."
Her mentor talked with her when she was still in school, asking if she wanted to get married and have kids.
"'Now when you get married and you're pregnant, you don't think you're going to be hanging off the side of a building, do you?' she asked me."
That's when Legohn decided on a teaching career, where she could still enjoy what she was doing and have the flexibility she wanted in other areas of her life. Since then, she has raised a child with special needs and kept working while she battled cancer, which is now in remission.
"Sometimes being a female in a non traditional role has its challenges," she said. "But the rewards are greater than the challenges."
"When I was first starting out, it was not common or popular for women to pursue non-traditional careers. I got a lot of negativity about my decision at first," Legohn said, explaining that she was raised in a large, traditional New Orleans family, where girls were groomed to be housewives.
"Mom said you're not there to prove yourself," Legohn recalled her mother counseling her, advising her to never let the other workers, who teased her on the job, see her cry. "You're there to do a job. Let your work speak for itself. Let your weld be your signature. From that day on, I let my work speak for itself."
LATTC classes
Usually Legohn's class has at least 40 students, but with the pandemic this spring she is teaching 20, even though the LATTC campus welding shop has 103 welding booths.
"It's the largest in the state," Legohn said. "One of the reasons they let us have the class is our ventilation system and the booths are separate. Very few classes are in person on campus now."
Legohn teaches students in person starting at 7 a.m. She also teaches lecture classes online in the afternoon. In the 2015- 2016 school year, she was named CTE Faculty of the Year at LATTC. In 2008, she won the American Welding Society/ WEMCO Image of Welding Award Educator Category.
In 2006 she was awarded first place in the Los Angeles Community College District's Workforce Development Awards - for successful encouragement of non-traditional goal pursuits into the welding program and careers.
For some of her students, welding is a second- chance profession.
"Certain jobs you can't get cause you're a felon," Legohn said. "You can make a great living [welding] so you don't have to go back to prison. That's what I love about welding, you get to see people change their lives."
More than half of Trade Tech's students are low income, which is on par with service area poverty data. Nearly 75 percent complete certificate programs, according to the 2010-2011 accountability report for California's community colleges.
LATTC welding students, meanwhile, complete their courses at a clip closer to 82 percent, and about half of the successful students are Legohn's.
"My theory is we're all a little broken," Legohn said. "But I've never seen a broken crayon that you couldn't color with."
LATTC is approved for certifications through the Department of Building and Safety.
"We believe in leaving with at least two certs," Legohn said, explaining there are both written and practical American Welding Society exams teachers help students prepare for in the department.
Five of the current instructors used to be students at LATTC, including four females.
Once certified, some recent welding students didn't have to wait long for placements in the local iron workers union.
"They didn't even have to get a sponsor," Legohn explained. "They [unions] were calling us."
Television appearances
Her unique career has also created a bit of celebrity for Legohn. She made several appearances in the "Monster Garage" television show. From 2003-2005 she appeared on 13 episodes of "BIG."
She also appeared in one episode of "Road Trip Nation," where she inspired teens to consider working in the trades.
Legohn often mentors students and advises those looking for a different career.
"Don't' let opportunities pass you by," she said. "They are not always going to come and knock on the door—you have to go look. It's about wanting, knowing and preparing yourself to get that prize or that dream."