Tulane doctor files discrimination lawsuit
Dr. Princess Dennar was a leader at Tulane University
Carol Ozemhoya, OW Contributor | 3/3/2021, 12:03 p.m.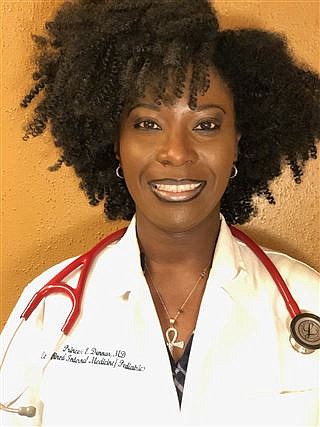 Dr. Princess Dennar of Tulane University was just a child in Southwest Philadelphia when she decided to become a doctor.
Many of the children in the predominantly Black neighborhood often rode their bikes in the street, but there were few stop signs to keep them safe. She still remembers the day one of the kids was hit by a car. It took hours before an ambulance came to help, Dennar said. If she had been a doctor, she could have helped sooner, she remembers thinking.
Decades later, Dennar became the first Black woman to head the Tulane University School of Medicine' internal medicine-pediatrics program, reports NBC News.
"My parents [said] there is no glass ceiling. That was the philosophy that they implanted in me," she told NBC News.
Despite breaking well-established barriers through her position at Tulane, Dennar was suspended last month after she filed a federal lawsuit against the medical school in October. The lawsuit accuses Tulane of discrimination and "creating a race and gender-based hostile environment."
Dennar alleges in the lawsuit that she experienced discrimination starting in 2008 when she first interviewed for a director position at the program. Dr. Lee Hamm, who is now the dean of Tulane's School of Medicine and was the chair of the internal medicine department at the time, is alleged to have told Dennar that she could become only co-director because "White medical students wouldn't follow or rank favorably a program with a Black program director." The medical school "didn't want to change the face of Tulane" with her at the helm, the lawsuit claims.
The lawsuit claims that after Dennar filed an internal complaint with Tulane's Office of Institutional Equity in 2018, she was offered a contract renewal with a proposed $30,000 pay cut. Her salary was restored after she complained to Tulane's Office of Institutional Equity. Dennar said she has since filed three federal Equal Employment Opportunity complaints. She won the right to sue in two of the cases. The third complaint was filed this week.
Hours before Dennar's story aired on NBC's "TODAY" show Tuesday morning, Hamm offered to lift Dennar's suspension and reinstate her as program director.
"This offer is predicated on Dr. Dennar's acceptance of several support mechanisms to help ensure issues reviewed by [the Graduate Medical Education Committee] do not reoccur," Hamm said in a statement. "I am dedicated to fostering an environment where every member of our community can work, learn and thrive. I am committed to our important work to end racial disparities in the health system and believe that Tulane must be part of the solution."
Dennar told NBC News that she will consider Hamm"s offer and review the terms with her attorney but that her concerns about racism and sexism at Tulane have not been addressed.