Black woman breaks ground as new sheriff in rural Georgia
Tia McWilliams is a trailblazer
Carol Ozemhoya - OW Contributor | 1/11/2021, 2:59 p.m.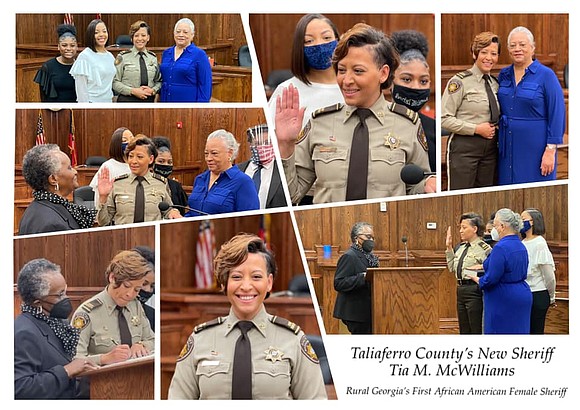 Georgia broke tradition last week, electing its first Black senator in Raphael Warnock and altering the U.S. Senate.
But it wasn't just the election… in a small town, change came to law enforcement as well with the selection of Tia McWilliams, the first Black sheriff in the Taliaferro County.
Out of Wilkes County, Georgia, she's been with the Sheriff's Office for nearly 20 years most recently as Chief Deputy. "I immediately went into a 21 day fast and I cleaned out all distractions and anything that would allow me to be distracted from doing my absolute best," she told News Channel 6 in Augusta, Georgia.
Williams says she didn't choose law enforcement, but a higher power chose it for her. She helped a friend and she in return received grace during her time of need. "When I found myself to be unemployed and looking for a job, it was by a friend who I had helped that I was able to be referred to this position," she recalled.
The Sheriff's staff is the size of a football team with the player/coach as the only female taking part.
"I don't think it took long. I think to everything there is a time and season and God is always in control. This is a male-dominated world, but in the words of the Godfather of Soul, James Brown, it's a man's world, but it wouldn't be nothing without a woman or girl," Sherriff McWilliams said.