New bill seeks to assist military in weeding out White nationalists
Introduced by by Rep. Pete Aguilar (D-Calif.)
Carol Ozemhoya, OW Contributor | 2/19/2021, 12:22 p.m.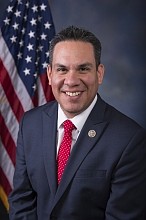 A new bill introduced in the House seeks to improve the U.S. military's ability to prevent White supremacists from joining its ranks, reports the Huffington Post.
The "Shielding our Military from Extremists Act" was introduced on Thursday by Rep. Pete Aguilar (D-Calif.), his office confirmed. The measure would require the Secretary of Defense to adapt a series of recommendations made in an October 2020 Pentagon report on how to keep "domestic extremists," namely White supremacists, out of the U.S. armed forces.
The recommendations in the Pentagon report — a copy of which was obtained by the Huffington Post — include giving the Department of Defense access to the FBI's database of extremist tattoos and creating clearer security clearance questions about White nationalism.
Aguilar told HuffPost he thought the Pentagon report "made clear that White supremacists are using our military to further their hateful and violent agenda, from acquiring training to recruiting new members — they're joining our armed forces with dangerous motives."
"And while we have systems in place to safeguard against this," Aguilar continued, "we need more collaboration between agencies, like the DOJ, and FBI to make sure that we're keeping extremists from our service members and from our community members."