National Urban League partners with NFL to inspire social change
Millions donated to create positive change in communities of color
John W. Davis, OW Reporter | 2/17/2021, 5:27 p.m.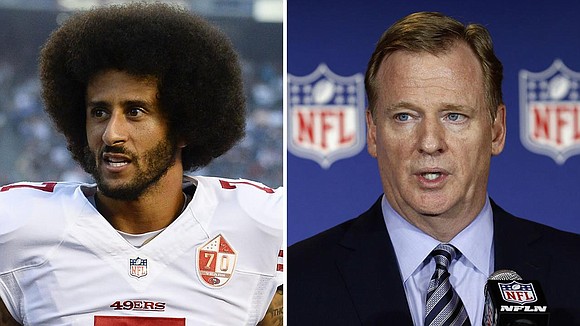 The National Urban League is now a major partner of the NFL's Inspire Change initiative, part of the league's 10 year, $250 million commitment to reduce barriers to social justice in local communities of color.
As of Feb. 1, the NFL said they have donated $95 million so far to various social justice initiatives. The announcement was made at a virtual event that discussed the new collaboration with the National Urban League.
"Inspire change is our comprehensive program." said Roger Goodell, Commissioner of the National Football League. "Education, (criminal justice) reform, economic advancement and policing in our communities."
Goodell admits he didn't truly understand what was going on in the beginning of the recent social justice movement in the NFL led by former San Francisco 49ers quarterback Colin Kaepernick who did not stand and eventually kneeled during the national anthem in 2016.
"A lot of us weren't aware, I count myself as one of them," Goodell said. "(It) started as an educational process."
"I wish we would have listened and learned earlier," Goodell added.
Five years later, with the NFL's financial support, the National Urban League will expand counseling services to assist homeowners and renters to find and maintain affordable, accessible housing and "urban reentry" efforts that help thousands of people leaving the criminal justice system find employment and successfully re-establish themselves in society.
"Will he play again," asked Marc Morial, president and CEO of the National Urban League about Colin Kaepernick's role in the NFL.
Goodell said he didn't know before explaining that Kaepernick is currently a free agent and that the commissioner can't make any one of the NFL's 32 teams sign Kaepernick.
Morial also asked Goodell how the NFL was lifting up Black coaches, specifically how they were helping Black assistant coaches get head coaching jobs.
Goodell said the league has a diversity and inclusion committee and they offer pre-interviewing consulting services to prepare Black coaches for interviews. As of February 2021, only three out of 32 or 10 percent of head coaches in the NFL are Black. However, according to researchers about 70 percent of players in the NFL are Black.
Urban Reentry Jobs Program
It is a different world when the formerly incarcerated come home. That's why Karen Freeman, the President and CEO of Chicago's Urban League said receiving funding to expand services is "priceless" and will go a long way to help anti-recidivism efforts.
Freeman said the funding will help pay for something as simple, yet as important as bus passes so people can get to and from work.
Transportation to and from work is often an overlooked issue as people reenter the workforce.
The reentry population often assist each other.
"It's kinda like an extended family," said Wendell Robinson, who began serving 25 years in prison at the age of 17.
Finding those who truly care about you was echoed by former NFL quarterback Michael Vick, who served nearly two years in federal prison for his involvement in a dog fighting ring from 2007 to 2009.
Vick said after that experience, he had to "lean on the people" that really loved him.
"Staying the course and staying patient," Vick said was the key to him eventually returning back to the NFL after prison.
Meanwhile, for Robinson, he found love and support via the Urban League.
"The program believed in me," Robinson said. He participated in skills and job training sessions that specifically helped him re-enter the workshop and earn a livable wage.
Comprehensive Housing Counseling Program
For first-time homebuyers, having an action plan to improve credit and budgeting spending is key to becoming a homeowner. So far, the National Urban League said they have helped 200,000 people and will be able to help thousands more with additional funding from the NFL.
However, it takes education and even coaching to truly be ready to buy a home. That's why the National Urban League believes their first time homebuyers workshop is a key tenet of social justice efforts in communities of color. For many, real estate is an important part of creating generational wealth.
"It feels good to own a home… I don't have to worry about issues with my landlord," said Rasheada McKoy, who recently bought a home after receiving counseling services from the Urban League. "Now that I have this house, I know what to do to keep it."
McKoy said her credit score was 530 when she began learning what it would take to qualify to buy a home. Once she built her credit score to 650, McKoy said she was truly ready to buy a home.
"I don't think I would have a house right now if it wasn't for this program." McKoy said.
Program leaders shared three tips for first-time homeowners.
Take a Housing Counseling Workshop

Talk to a housing counselor and get your credit score

Save money and decrease debt
"Don't give up, keep pushing until it happens," said McKoy.