Lancaster MOAH announces series of special exhibits
Enjoy 'Golden Hour' through May 9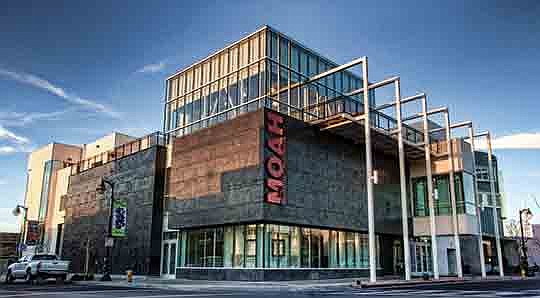 The Lancaster Museum of Art and History (MOAH) has announced its first exhibit of 2021 "Golden Hour: California Photography from the Los Angeles County Museum of Art."
The exhibit is part of their participation in Local Access, a partnership between the Los Angeles County Museum of Art (LACMA) and three other regional arts institutions including MOAH. See a sneak peek of this exhibit on MOAH's website: lancastermoah.org/goldenhour-lacma.
Local Access is a series of special exhibitions aimed to expand American art access across the United States. It will draw from LACMA's vast collection of art objects to present dynamic exhibitions of American art. This multi-year, multi-institutional partnership is formed by LACMA as part of the Art Bridges + Terra Foundation Initiative, a joint grant program of Art Bridges and the Terra Foundation for American Art.
The mission of Art Bridges + Terra Foundation Initiative is to expand access to outstanding works of American art by supporting collaborative partnerships between metropolitan museums and institutions in non-metropolitan areas. Through Local Access, LACMA will share collections and museum resources while expanding access to treasured American artworks.
The four "Local Access" partner institutions include MOAH, Riverside Art Museum, Vincent Price Art Museum at East Los Angeles College, and the Cal State Northridge art galleries.
Each institution will host up to three Local Access exhibitions beginning with "Golden Hour." The second exhibition will explore progressive design, political activism, and examine the creative means that California designers and artists have used to advocate for civil rights, oppose wars and unjust policies, and press for change.
This exhibition is scheduled through the next year, with a third exhibition yet to be announced.
The initial Local Access inaugural exhibition, "Golden Hour" will run at MOAH—and remain on view, virtually—through May 9 before traveling to the other three partner institutions. Learn more about the exhibit by visiting lancastermoah.org/goldenhour-lacma.
In "Golden Hour" over more than 70 artists and three photography collectives offer an aesthetic approach to understanding the complexities and histories of California. These images, gathered from LACMA's collection, have come to define the myths, iconographies, and realities of this unique state.
Pairing masters of photography with experimental practitioners in a range of lens-based media that includes photo sculpture, vernacular, and video work, the selection blurs the boundaries of the tropes that formed California identity.
With works ranging from the early 1900s to present day, "Golden Hour" is neither a didactic history of the state nor an inclusive tale of photographic history, but rather the artists' impressions of the state of being in, and being influenced by, California.
The partnership between the MOAH and LACMA via Local Access will not only provide the Antelope Valley with dynamic collaborative exhibitions but will also help the museum in its journey to accreditation from the American Alliance of Museums (AAM).
"MOAH is dedicated to strengthening awareness, enhancing accessibility and igniting the appreciation of art, history and culture in the Antelope Valley," said Lancaster Mayor R. Rex Parris. "We are very proud of the work MOAH has done including dynamic exhibitions, innovative educational programs, creative community engagement and vibrant collections that celebrates the richness of the region. We are excited by the opportunity to be a part of this partnership. Being a Local Access partner means that MOAH is meeting the American Alliance of Museums standards including public trust and accountability."
By presenting quality exhibitions and programs as well as committing to the proper care and preservation of works of art and artifacts relating to the history and culture of the Antelope Valley, MOAH is the region's center for art and historical engagement.
To learn more or to view exhibitions virtually,