Afro-Latina Conductor Kalena Bovell steps to the podium after years of struggle
Maestra!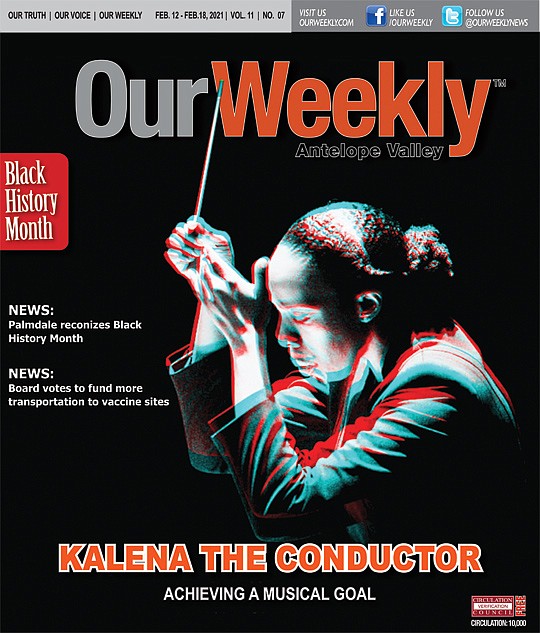 The majority of us, even those not fans of classical music are familiar with the image of the person at the center of the orchestra directing the musicians with dramatic flourishes of a metal baton.
Since these individuals command so much attention without making any (audio) noise, one might wonder what purpose they serve in the midst of the cacophony of sound generated by those around them. One of the rising stars in the contemporary realm has been kind enough to give us a glimpse into this demanding profession.
Kalena Bovell, currently the assistant conductor of the Memphis Symphony Orchestra, breaks the mold not just by being a woman, but an Afro-Latina to boot. Her journey to the podium is the result of tireless study initiated by incidents of coincidence and random occurrence.
Hap·pen·stance: a circumstance especially that is due to chance; coincidence.
The daughter of Panamanian immigrants who came to America in search of a better life, Bovell grew up in Jefferson Park just across from Dorsey High. She displayed no discernable talents until she was nine, and someone searching for bodies to fill the school choir noticed she had a knack for pitch and tone. By middle school, she and her friends formed a trio aspiring to the sounds of Aaliyah, Whitney Houston, Toni Braxton and others, before fate intervened as a scheduling conflict placed her in a stringed instrument instead of the vocal instruction she desired.
The act of pulling sound by drawing the bow across a violin's strings prompted her parents to buy a $200 knockoff from the Fingerhut catalog.
Even the most accomplished virtuoso starts from the ground up. Young Kalena by her own admission sounded "like a dying cat," tormenting her mother to no end with two hour practice sessions in their duplex, as the rest of the family tried to sleep.
As most professionals start well before they hit "the double digits" (Itzhak Perlman, perhaps the most famous today, started as a preschooler) she was plagued by insecurities since she was well behind her peers in terms of techniques and performance prowess. Further obstacles were cultural perceptions, as when a White classmate casually observed that she would "...never be 'good,' 'cause you're not Asian."
"There was a summer in middle school when I decided to quit and just give up music because I was tired of the frustration I felt," Bovell recalls.
"I didn't play for three months and I was miserable," she continues.
"I missed playing and I missed the way music made me feel. No matter how many times I tried to quit or give up, there was always something that called me back to music."
The neophyte was boosted by her parents, who scarified rest and peace of mind in light of her dogged commitment. Her maturation under music teacher Joe Taylor at Webster Middle School, then on to the Los Angeles Center for Enriched Studies (LACES) got a boost when she came across the local Southeast Symphony Orchestra which conducted weekend music sessions at LACES.
Perseverance and Persistence
Enrollment at Santa Monica College and the start of private lessons at age 18 provided little direction until a random recommendation sent her south to Orange County's Chapman University, which was a culture shock in itself, although Bovell was less than 50 miles from where she'd been born and bred. Compounding this was the onset of depression, a common enough occurrence in the passage from adolescence to adulthood, abetted by the uncertainty inherent in the pursuit of a career in the arts.
Reprieve came in the form of therapy, a years long process that eventually provided clarity.
"...if I weren't a musician, I definitely would have gone into psychology," Bovell said.
Five years of study at Chapman (five years) were complicated by the necessity of as many as six part-time jobs to make ends meet. They included coaching and teaching violin, conducting assistant with the university orchestra, and as a retail clerk at Top Frozen Yogurt.
Fate once again intervened, in the form of a Sophomore class requirement on instrumental conducting. Her instrumental shortcomings were forgotten as she realized how the individual components "all fit together," shaping sound.
"With conducting, I never felt like I was catching up to anything and I could therefore really focus on what the composer was trying to say. What I love most is being able to mold, shape, and influence the overall shape of a piece of music with the help of the musicians sitting in front of me."
Kindred spirits
Eventually, Bovell came to the realization that, like all serious musicians, she would have to relocate to the East Coast. A fellow Chapman alumnae, a cellist, recommended the school she was attending, The Hartt School (a conservatory at the University of Hartford) in Connecticut and faculty member she might be compatible with. A
promotional video featuring this individual, Edward Cumming, who bears a physical resemblance to Cosmo Kramer of the "Seinfeld" sitcom, gave her an "aha" moment.
"This guy is really kookie!" was her immediate reaction to the eccentricities she picked up on from the interview video. Based on that video however, she had a feeling they would be compatible.
The cross continental move to New England and grad school proved to be easier than her earlier transition from inner city L.A. to bucolic Orange County. Therapy and personal growth made her very much her own
person. The physical relocation to a locale of changing climates was offset by a simpler lifestyle, and a reprieve from the clogged freeways and congestion of Southern California.
Along with the therapy, Bovell wrote poetry as a method of releasing pent up emotions within her. By 2009, she became a published author with a collection of poetry titled "Dear Soul."
A masters degree gained her a job teaching at Loomis Chaffee, an elite Connecticut boarding school. Employment meant a financial cushion as she juggled the reality of "living two different lives," teaching and making the rounds of "understudying" at various symphonies around the country, along with auditioning for her dream job over the next few years (she estimates a paltry one job for every 100 applicants is the norm).
Settling in
"Kalena has a great amount of talent, potential, and interest in the various musical colors that make up the palette of our city. She is gregarious, inquisitive, and a natural leader. Our professional orchestra, youth orchestras, and audiences are going to love her!" -Music Director, Robert Moody
By 2019, Bovell had received an invitation to audition for the Assistant Conductor position of the Memphis Symphony Orchestra, a day-long affair including performing and meeting with board members and key associates within the community. When the unanimous decision to hire her came, she had a complete break down in her Connecticut apartment.
Presently she is in a "down period," due to the pandemic. Nevertheless, she toils at administrative tasks while struggling with the logistics of planning a youth program for next summer. She looks forward to her next Memphis Symphony Orchestra concert (hopefully) in March, as she spends 17-20 hours a week studying music-specific issues in preparation.
Admittedly drawn to eccentricity, Bovell's leisure listening pleasures are surprising.
"I love the energy and the rawness of metal music," she reveals, responding to the visceral appeal of growling and screaming in the vocals of many bands.
"I discovered a Ukranian metal band named Jinjer that has a female lead singer. Discovering their music was the first time I had ever heard a woman growl in a song and I was immediately captivated."
"Jinjer as an example uses mixed meters in most of their songs which is not usually found in rock music (which typically uses four or eight bars)."
Bovell notes that classical composers also use mixed meters, such as Igor Stravinsky's "L'Histoire du Soldat" ("The Soldier's Tale").
The fusion of classical and contemporary idioms is not as far fetched as one might think. Kendrick Lamar performed his "These Walls" before the National Symphony Orchestra (2015), and east coast artist Thee Phantom and the Illharmonic (http://www.theephantomhiphop.com/) specializes in performing and recording these seemingly incompatible genres.
As for Kalena Bovell, she has a dream of conducting a symphony fronted by the heavy metal band Metallica.