The politics of ending the untidy political life of Donald Trump
Practical Politics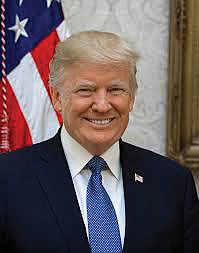 Being out of office, yet still flashing a gleaming new OFFICE OF THE FORMER PRESIDENT sign in Florida, Donald Trump's past and future political fortunes will not paint a pretty picture in American history.
Trying to still be a "mob boss" character, and a lightning rod of political chaos, Mr. Trump is now being impeached again. He is the only POTUS in this country's history to have that dubious distinction, and it won't wear off.
Even though he incited an insurrection against the legislative branch of the U.S. government, resulting in public loss of life and severe property damage, and he sought to invalidate the essence of American democracy——a peaceful transition of government—Mr. Trump has still not been chastened for those actions. The Las Vegas oddsmakers have already determined that, when all has been said and done, he still won't be, either.
However, the U.S. Senate, currently going through impeachment proceedings against Mr. Trump which can, conceivably, end up banning Mr. Trump from ever seeking another federal office (such as running for POTUS again) can defeat the bookmakers' odds. The only way to do so, however, is for the Democratic Party majority to vote to have a secret ballot decision made on whether to convict Mr. Trump or not.
And there is nothing in either the old or current rules of the Senate to prevent such a rule change. Chuck Schumer and the Senate democrats just have to do it---simply pull the trigger.
The current rules agreed to by both parties on how to conduct this second impeachment trial does not automatically foreclose this last rule change before the verdict vote. Majority Leader Schumer is a wily, seasoned and shrewd operator, so expectations are high among political analysts that he will actually get this done, since he knows the Republicans will otherwise simply play true to form and not convict Mr. Trump, in spite of there not being any doubt about his guilt.
In the 1861 attempted insurrection to stop Congress' certification of President Lincoln's electoral win, the mob that tried to attack and overrun the Capitol Building was halted in its tracks by a determined, duty-bound military General of the U.S., Winfield Scott, who had a very large contingent of army regulars aim field rifles and bayonets at the crowd, as rebels yelled insults at him. General Scott was well-known as a prevailing war hero (War of 1812, War Against the Native Americans, etc.) and the crowd knew Scott would, without hesitation, give the order to shoot them all. This was the time in which seven southern states (Alabama, Florida, Georgia, Louisiana, Mississippi, South Carolina, and Texas) had just seceded from the Union and the capitol insurrectionists could very well have been early confederate populists incited to violence by Lincoln's recent electoral win.
But in this case, there was agreement that Lincoln had indeed won the election, and the southern candidate had lost. Here, there was no ceaseless pushing of the prevarication that the southern candidate for president had been cheated out of an election victory. Here, the belief was that, with Lincoln as POTUS, the southern states would lose all their slave labor through federal intervention.
In any case, that comparable capitol insurrection failed, but for different reasons than the one in 2021. Both times, American democracy was put to the test. Both times, democratic government survived.
Finishing the job this second time need not lead to another Civil War.
The forces are not aligned that way even though the fierce rhetoric of the day may give a different impression. All that's really needed now is for the Democrats in the Senate to impose the secret ballot rule.
That will allow for the correct ending. More than 17 Republicans, under the cloak of a silent vote which may never see the light of day, can then safely vote their consciences, and not their partisanship.
To the Democrats: Get on with it. Send him on his way!
Professor David L. Horne is founder and executive director of PAPPEI, the Pan African Public Policy and Ethical Institute, which is a new 501(c)(3) pending community-based organization or non-governmental organization (NGO). It is the stepparent organization for the California Black Think Tank which still operates and which meets every fourth Friday.
DISCLAIMER: The beliefs and viewpoints expressed in opinion pieces, letters to the editor, by columnists and/or contributing writers are not necessarily those of OurWeekly.