Former pro football player puts focus on the community through BLQK Coffee
This business is 'in the BLQK' for coffee lovers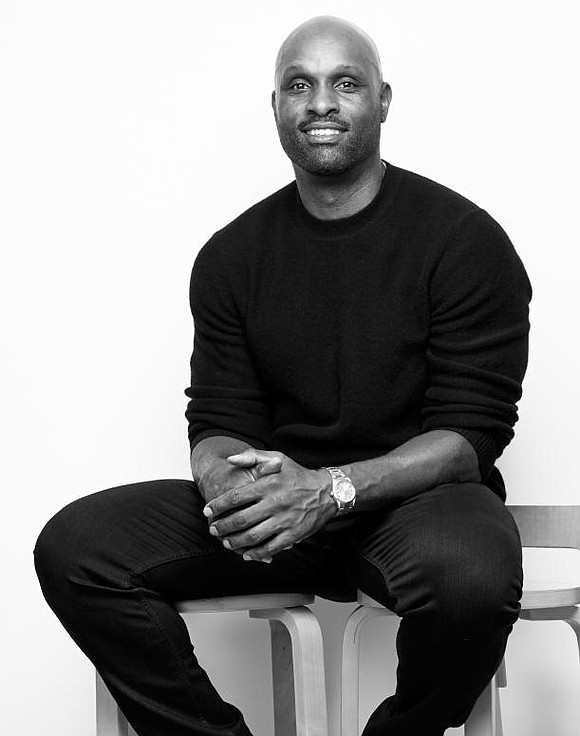 Justin Watson, retired Rams player and Super Bowl winner, recently launched BLQK Coffee serving caffeine with a cause. The business is committed to pouring 25 percent of its profits into the support of social justice initiatives, youth and education in the Black community.
Although the name of the venture wasn't originally an acronym, Watson and his crew have been tossing around a few thoughts.
"The latest is 'Building Legacies for our Queens and Kings," he said, and then he explained why he recently started this business, which is pretty much dominated by a variety of coffee shops throughout the city.
"Part of our plan is to eventually disrupt that," Watson said, noting that the business idea originated after two Black men were arrested at a Philadelphia Starbucks in 2018.
"I had a conversation with Kevin Garnett in a backyard barbeque," Watson said. "We should build our own brand. Make our brand different.
Make our coffee shop different. We were talking about not supporting Starbucks. That was the origin. That's how this whole concept got started on June 18."
When he went to bed that night, Watson could not sleep and said his mind was tossing and turning with the idea.
"I woke up that morning and assembled a team: an attorney, a financial guy, a coffee guy… and said you know we're going to start our own brand," Watson said. That was on Juneteenth. An auspicious date, for sure, to begin a new Black venture.
"We didn't mean to," Watson said, referring to the Juneteenth timing. "It was just by happenstance."
Today, BLQK coffee can be ordered by the bag online and Watson has plans to ultimately have a brick and motor coffee shop, but that's on the back burner, so to speak. The team is waiting for the proper moment to showcase their special coffee.
"Our beans come from Ethiopia," Watson said. "We source from the top one percent of beans in the world. We want the best beans. We believe coffee is a daily ritual that we have transformed into an unique, purposeful experience."
BLQK is purposefully pouring back 25 percent into organizations which support social injustice initiatives.
"Last year was an eye-opening year for many people. I thought that I could get more involved in moving the needle forward with Black and Brown kids in our communities," Watson said.
"The give back is important to us," he added. "Our coffee is really premium and just really good. I'm happy that we have kind of two-headed monster: good coffee and a good mission."
The coffee used in creating BLQK is not over-processed, Watson explained, as the natural picked fruit is dried in the sun so the flavor notes remain in the finished beans.
Some other daily coffeeshop drinkers like a little of the brewed beverage with their sugar and cream. But Watson is trying to change that.
"Once you go BLQK, you never go back," Watson laughed. "This is part of what I'm trying to do. I'm trying to get people off sugar and cream. At that point, you're just going for something hot. My goal is to wean you off things not good for you. We can support community in that way, as well."
"That's a lot of the excitement as well. If I can wean them off that thing they have every single day," Watson said. "Move that needle from a food justice type of standpoint. This is a multifaceted brand and purpose."
Watson didn't begin his football career like most players. He didn't play Pop Warner when he was young. It wasn't until he was in Pasadena's Marshall High School that a coach pulled him aside after watching his speed on the playground.
His Jamaican-born parents never watched football on television, so Watson was unfamiliar with the game.
"There wasn't a ritual of Sunday football," Watson said of his household, explaining his relation to the game. "It was a slower process I had to kinda learn."
His learning and aggressive play lead to a full-ride scholarship to San Diego State University.
"With the Aztecs, I was like a diamond in the rough," Watson said. "I was kinda new to the game. It was a full learning experience."
Watson credits the program at SDSU for instilling a passion for football. Eventually, that passion led to the NFL and a Super Bowl ring with the St. Louis Rams.
"There's a saying that 'The eye in the sky doesn't lie," Watson said, referring to the videotaping cameras during practices. And when then-coach Dick Vermeil watched Watson, he later showed the practice tape to the rest of the Rams players.
"If we're gonna win the championship, this is how we've got to go," Vermeil told the rest of the team.
"We got that ring," Watson said. "We got that hardware. It was a testimony to hard work."
Watson is putting that same passion and hard work into BLQK coffee.
Incidentally, Watson believes that the Chiefs will come away with the hardware this Sunday in the Super Bowl.
"This matchup is a very interesting one," Watson said. "Tom Brady is going against the next potential G.O.A.T. (Greatest of All Time). For now, you've gotta say that Tom Brady is the G.O.A.T. at this point. I'm excited to see what's going to happen. If I was going to put up my bag of coffee on game, it would be on Mahomes and the Chiefs. And I value my coffee."