Multi-agency search continues for person who ambushed deputies
Reward of $175,00 is offered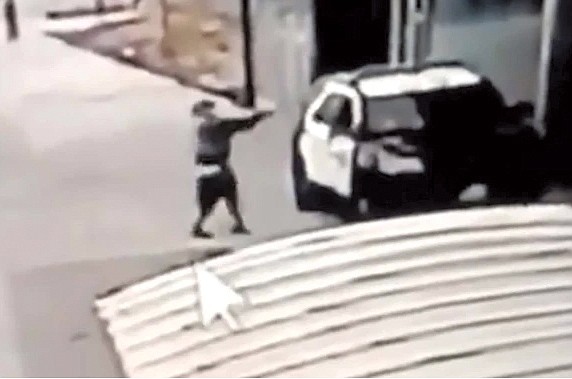 A manhunt continued on Monday for the gunman who brazenly shot two Los Angeles County sheriff's deputies as they sat in a patrol SUV at a Compton rail station, with a reward for information leading to the suspect increasing to $175,000.
The deputies, members of the Transit Services Bureau, remained hospitalized in critical condition, but Sheriff Alex Villanueva was hopeful Monday about their prognosis.
"Fortunately, they were spared any injury to a vital organ that would have jeopardized their life immediately," Villanueva told KNX Newsradio.
But the sheriff said the deputies—described only as a 24-year-old man and a 31-year-old mother of a 6-year-old boy—have a long road to recovery. Villanueva said Saturday both deputies were sworn in just 14 months ago.
As of Monday, no suspects have been identified, despite some online social media chatter to the contrary. The sheriff's department issued a statement early Monday saying the information circulating online "is erroneous information and there are no named or wanted suspects at this time."
Villanueva told KNX investigators are "working day and night to identify and arrest these cowards," referencing the gunman and a possible getaway driver.
The county is offering a $100,000 reward for information leading to the gunman. The Board of Supervisors is expected to formally ratify the reward offer at its meeting Tuesday. Villanueva, in a Monday afternoon appearance on KABC radio, said two private donors stepped up to increase the reward offer to $175,000.
Villanueva also challenged Laker star LeBron James, who has been outspoken on social-justice issues and in support of the Black Lives Matter movement, to double the reward offer.
"I know you care about law enforcement," Villanueva said. "You expressed a very, very interesting statement about your perspective on race relations and officer-involved shootings and the impact that it has on the African-American community and I appreciate that. But likewise we need to appreciate that respect for life goes across professions across races, creeds, and I'd like to see LeBron James step up to the plate and double that."
Anyone with information was encouraged to contact the Sheriff's Department's Homicide Bureau at (323) 890-5500. Anonymous tips can be left for L.A. Crime Stoppers at (800) 222-TIPS (8477), or at http://lacrimestoppers.org.
The attack occurred at 7 p.m. Saturday at the Metro A (Blue) Line station at Willowbrook Avenue and Palmer Street. Surveillance video shows the suspect approaching the patrol vehicle from behind, walking up to the passenger side of the vehicle, pulling out a handgun and firing through the passenger side window. The gunman is then seen running away.
The shooter was described by the sheriff's department as a "male Black, 28- to 30-years-old, wearing dark clothing, who was last seen heading northbound on Willowbrook Avenue in a black four-door sedan."
Villanueva said his department has been contacted by President Donald Trump and Democratic presidential candidate Joe Biden, and he said the president may reach out to the injured deputies' families Monday. Trump is scheduled to visit northern California Monday to survey wildfire damage. It was unclear if he planned to travel to Southern California.