Pilot program seeks answers to high Black infant mortality
African-American babies die at alarming rate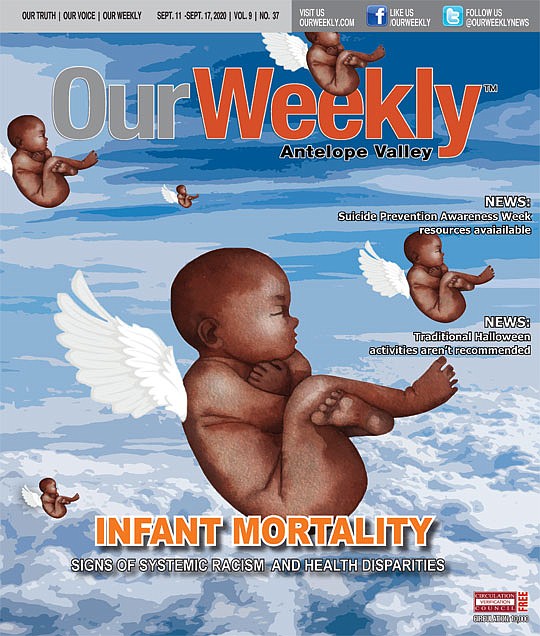 The U.S. infant mortality rate has fallen over the last two decades, but major disparities remain, and carry serious implications for overall health. In 2017, the U.S. Centers for Disease Control and Prevention (CDC) reported that more than 22,000 babies died before the age of one. That's a rate of 5.8 infant deaths per 1,000 births for the general population. 
However, in that same year, the African-American infant mortality rate was 10.97 per 1,000. That's nearly double the overall national rate and more than twice the rates among White, Asian and Hispanic women.
In California, the Los Angeles County Department of Public Health reports that:
—Black babies are more than two times more likely than White babies to die in their first year of life 
—The rate of preterm birth is 50 percent higher for African-American mothers than for White or Asian women.
—The mortality rate among African-American women during childbirth is nearly four times higher than that of White women.
Similar outcomes for all Black women
African-American women of all backgrounds tend to share experiences of racial and gender discrimination. A growing body of research suggests that stress induced by this discrimination plays a significant role in maternal and infant mortality.
Although maternal mortality rates in the United States have plummeted during the previous 100 years, according to statistics gathered by the CDC, non-Latino White women experienced a steeper decline in maternal mortality than did African-American women.
The racial gap in infant mortality rates has been generally present since such data  began being collected by the U.S. government for at least a century. It has not changed significantly in 50 years. Higher rates of preterm births and low birth weights among Black women have traditionally driven this gap. African-American infants are reportedly 3.2 times more likely than non-Latino White babies to die from complications related to low birth weight.
Lack of access to prenatal care
Most research on health disparities in maternal and infant mortality focus on African-American women's greater exposure to risk factors around the time of pregnancy, including poverty and low socioeconomic status. Also frequently taken into account are limited access to prenatal care, and poor physical and mental health—the latter two issues possibly tied to the lack of available and quality medical care in the inner city.
Numerous studies have demonstrated that once African-American women access prenatal care—across traditional socioeconomic strata—it tends to be lower in quality and the women experience more complications. This is based on current health status, health history (pre-existing conditions), stress and experiences of racism all contribute to maternal and infant mortality when coupled with lower-quality prenatal care.
Obesity, which is associated with pregnancy complications such as preeclampsia (a condition of pregnancy characterized by high blood pressure), can often predict both maternal and infant mortality and is more prevalent among Black women. However, the New York City Department of Health and Mental Hygiene conducted a study in 2017 that indicated that African-American women of normal weight were still at higher risk of dying in the perinatal period than non-Black obese women.