BBA hosts 'Salute to Black Women Empowerment Summit'
Recognizing an electoral powerhouse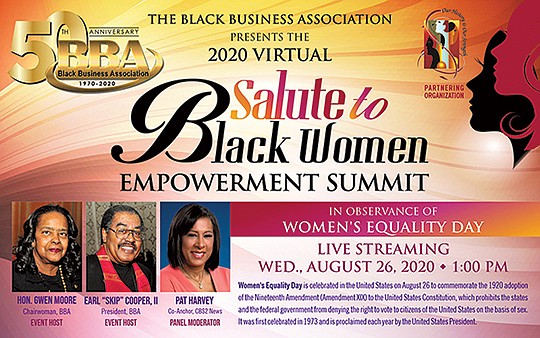 Palmer said that the pandemic has highlighted disparities in the health system and a recognition that the justice system needs to be reformed.
"These health disparities in the system stem from a lack of pay equity," Palmer said. "They all go together. The higher the pay, the higher the medical that comes with the package.
"The justice system also has to be higher in our priorities," she added, noting that each state has a different way of handling public safety. "I think we should look at a justice system that applies to the entire United States."
Palmer also mentioned that action cannot just stop after election day.
"We have to be more engaged in working with these elected officials," she said. "Visit your local officials. When I was trying to do little things. I would just go to Gwen's office and talk to her. I feel we elect people and then we just forget about them. Stay in touch with your leadership."
Patrice Marshall McKenzie, a local public affairs professional, also chimed in, saying that the unique health needs should be prioritized.
"I think it's absolutely vital that women show up at the ballot box, otherwise, we will not be able to lift up the unique needs of our community," she said. "I was at Cal when proposition 209 passed and I saw the precipitous decline of Black student enrollment."
The afternoon's panel also included Tiffany Okeani, a rising senior at Cal Berkeley and an "activist student" who is facing her first voting opportunity in a presidential election.
"Black women oftentimes spearhead movements, but rarely become the stars," Okeani said, noting that she supports criminal justice reform, defunding the police and moving some of those resources toward the educational system. "I do believe that progress has been made, given the history of this country."
The other participants were impressed with Okeani, the youngest speaker of the day, who insisted that the voices of Black women have to be heard, especially at this point in history.
"We have to fill in the cracks that society intentionally lets us fall through," Okeani said. "The way we make people listen is by voting. We are not going to be taken for granted. Black women oftentimes are not doing things for ourselves. Often we do things for our community. We have to take up more space."
State Sen. Holly Mitchell (D-30) agreed.
"Black women are emerging as an electoral powerhouse and we're facing one of the most pivotal elections in our nation's history," she said. "I hope that you will get out and vote Nov. third as if our lives depend on it, because in fact, they do."
Another panelist, Alene Brown-Harris of the North American Chapter of the National Congress of Black Women, agreed, saying new strategies would be necessary to make new changes. Both the completion of Census 2020 papers and the votes of Black women can make a difference.
"I feel our democracy is on the ballot," Brown-Harris said. "Being a part of this struggle is going to be very positive for the entire world. Voting is going to make major changes in this world. As soon as my absentee ballot comes in, I'm going to fill it out and mail it right away."