BBA hosts 'Salute to Black Women Empowerment Summit'
Recognizing an electoral powerhouse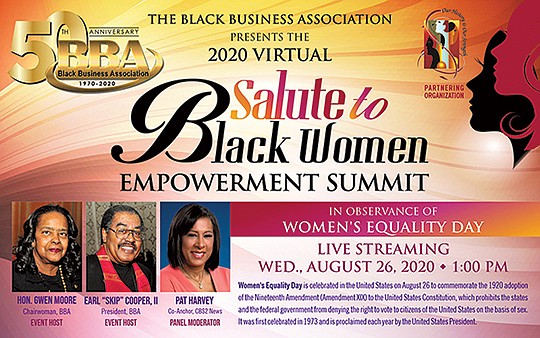 The Black Business Association (BBA) "Salute to Black Women Empowerment Summit" included a special salute to its chairwoman, Gwen Moore, who made her transition just a week before the event.
"Let's not forget the contributions that Gwen Moore made to our state that have been so helpful to women and people of color," said Rep. Maxine Waters (D-43), referring to Moore's opening the door to supplier diversity while on the state assembly's utilities and commerce committee.
"Gwen Moore was pioneering in an era that African-Americans had never been involved in: The energy and utility regulation issues," said former Assemblyman Willie Brown. "Not only did she become the pioneer, but she became an architect in that scene."
Rep. Karen Bass (D-37) once served as Moore's secretary at the now-dissolved Greater Los Angeles Community Action Agency.
"Everything about Gwen was about making sure we get out and vote and stand up and lead," Bass said. "She encouraged me in the 2004 campaign to take her seat in the 47th District. One of the most important contributions we can make is to continue to lead and look back and encourage the next generation of leaders."
"While small in stature, she was a force of nature," said Assemblywoman Autumn Burke. "Gwen and my mother instilled in me a sense of service at an early age."
Burke said she firmly believes in the mantra "We lift as we climb." 
"We can use our vote for more than just standing against someone, but we can use our vote to stand for someone," she said.
Burke's mother, retired County Supervisor Yvonne Brathwaite Burke, was also featured during the virtual summit, which was held in observance of Women's Equality Day, commemorating the 1920 passage of the constitutional amendment granting women the right to vote.
"First of all, the most important thing is for us to get out and vote," said Brathwaite Burke.  We have to get everyone to understand that We have to participate."
The former supervisor believes that the time has come and participation is especially necessary for African-American communities, in particular, and it is essential that they "strike when the iron is hot."
"We're going to have to make sure we can take advantage of the headlines," Brathwaite Burke said, referring to the calls for public safety reform measures following the recent rash of police shootings across the nation. "We have to take advantage of all the guilt… and turn that into opportunity."
Brathwaite Burke said that the task is up to everyone, even though Blacks are a fraction of the total population, it's a population that must be considered and must create and maintain voices at the city, county, federal and state levels.
"Speak up, wherever you are," she said. "We're all on boards, organizations, businesses. We are in trouble. We have to really do twice as much work now, as we go into reapportionment. We're going to have to be on top of those committees."
"COVID-19 has brought it to home to us -- the very necessity of women to be at all the tables," said Celestine Palmer of the LA African American Women's Public Policy Institute (LAAWPPI). "When women speak, we are speaking for the entire family and our community."