Mark Ridley-Thomas, Grace Yoo vie for 10th District council seat
Veteran politician takes on newcomer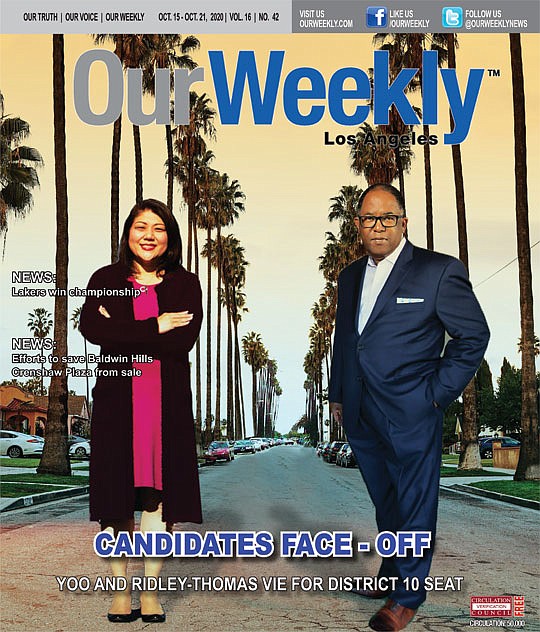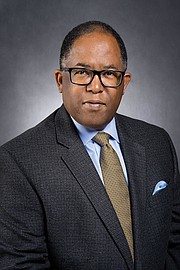 From Angelus Vista to Wilshire Vista, Los Angeles' Councilmanic District 10 is an expansive yet intimate community hosting a middle- to upper-middle-class medley of residents.
The district has occupied the same general area since it was formed in 1925. There are an estimated  244,940 residents within its 52 neighborhoods, loosely bounded by Melrose Avenue to the north, Exposition Boulevard to the south, Robertson Boulevard to the west, and Vermont Avenue to the east. The area is noted for historic California Craftsman single-family homes and some of the city's most beautiful Art Deco architecture in small neighborhoods sporting rather tony welcome mats like Cherrywood, Faircrest Heights, Picfair Village, Queen Anne and Wellington Square.
Koreatown is widely considered to be the most famous region in the district. Sitting just west of Downtown LA, the area is one of the nation's most densely populated communities with an ethnically diverse mix of Latinos, Asians, Whites and Blacks. Add to that, enclaves like Mid City, West Adams Heights (formerly  Sugar Hill and famous for eliminating housing covenants against Blacks), Country Club Park (infamous for the Black Dahlia murder), and historic Leimert Park, which is undergoing significant change by virtue of the Crenshaw/LAX Metro Line and its pushback against gentrification.
Into this cosmopolitan milieu of history and offings comes a veteran local politician, Mark Ridley-Thomas, wishing a return to his old stomping grounds, and a new face, Grace Yoo, vying for an upset. The district seat is open as soon-to-be former Councilman Herb Wesson is campaigning for Ridley-Thomas' old seat on the  County Board of Supervisors.
In the March primary, Ridley-Thomas received about 21,000 votes, or 44.3 percent, with Yoo collecting 11,200 votes, or 23.6 percent. By late summer, Ridley-Thomas had secured an estimated $1.15 million to his campaign, while Yoo had raised just over $595,000.
Mark Ridley-Thomas
In 2008, Ridley-Thomas was elected to the Board of Supervisors by a wide margin, and has served three terms. He has been a leader in advocating for structural change for more than two million constituents and authored and led the County's effort to end homelessness through Measure H. Ridley-Thomas is a board member of the Los Angeles County Metropolitan Transportation Authority, the Los Angeles Memorial Coliseum Commission, and LA Care, the latter the nation's largest publicly operated health plan. As supervisor, he played an instrumental role in the reopening of Martin Luther King Jr. Community Hospital in Watts.
The increasing level of homelessness throughout both the City and County of Los Angeles occupied a considerable amount of Ridley-Thomas' time during his tenure of the Board of Supervisors. He said that issue is a "primary concern" in the 10th District.
"The homeless crisis remains our biggest challenge; we cannot retreat from our commitment to bring everyone indoors," Ridley-Thomas said. "This is a moral and public health crisis that  has consequences for everyone of us who life in the district."
Ridley-Thomas has resided in the 10th District for many decades. He and his wife, Avis, reared their family there. He believes that is the area of town where he can do the most good.
"This district is the most diverse in our city," he explained, "and now, more than ever, we need leadership that will bring us together."
Intending to "hit the ground running," Ridley-Thomas identified homeless as his first order of business to tackle if elected. He pointed to his tenure in the state legislature and his ability to "pull together resources" from all three branches of government to better serve his constituents.
"We must continue to build affordable housing, but we need a mix of solutions," he said. "[These include] repurposed buildings, shelters, transitional housing units, and housing with wrap-around services. Thousands of unsheltered people already have jobs—what they don't have is a place to live."
Measure H, Ridley-Thomas noted, is a viable and sustainable source of funding to prevent homelessness and to "provide both housing and the services needed to help individuals who are exiting homelessness." All totaled, Measure H brings in about $350 million annually to help address the homeless issue.
Work in state government
Prior to his election to the Board of Supervisors, Ridley-Thomas served the 26th District in the California State Senate, where he chaired the Senate's Committee on Business, Professions and Economic Development. While in the Senate, he was Chair of the California Legislative Black Caucus.
Ridley-Thomas was first elected to public office in 1991 and served on the Los Angeles City Council representing the Eighth District. (Because he served two terms previously, Ridley-Thomas, if elected, will be limited to one term on the city council).
After leaving the city council, Ridley-Thomas served two terms in the California State Assembly where he chaired the Jobs,Economic Development and Economy Committee and also chaired the Assembly Democratic Caucus.
Ridley-Thomas has been recognized an advocate of neighborhood participation in government decision-making in founding the Empowerment Congress, generally recognized as the region's most successful initiative in neighborhood-based civic engagement. Prior to his political career, Ridley-Thomas served as executive director of the Southern Christian Leadership Conference  of Greater Los Angeles from 1981-1991.
A graduate of Manuel Arts High in South Los Angeles, Ridley-Thomas, 65, earned BA and MA degrees from Immaculate Heart College and received a Ph.D. in Social Ethics from USC.
A look at Grace Yoo
Los Angeles native Grace Yoo is an attorney and community leader. She is running for election to take action on homelessness and the crisis in the affordable housing.
Yoo has campaigned on updating the planning and zoning laws, ensuring funding for regular street and park maintenance, identifying which tasks are assigned to law to law enforcement and which could be better addressed by other agencies, and demilitarizing police.
During her legal career, Yoo has represented abused and neglected children for LA County's Children's Law Center. She has worked to expand language access in courtroom proceedings as executive director of the National Asian Pacific American Bar Association. Yoo has served as commissioner and vice president of the City of Los Angeles Department of Transportation and has been a longtime supporter of more transparency within government, as well as being a staunch advocate of environmentalism and conservation. Yoo also advocates for increased investment in public infrastructure.
"I am running for Los Angeles City Council District 10 because we need to change City Hall to focus on the needs of the people live, work and visit there," Yoo said. "Our government simply must change. This was true before the COVID-19 pandemic brought fear for one's health and economic hardship to our doors.
"This was true before yet another police officer murdered yet another unarmed Black man ans spurred hundreds of thousands of individuals to take to the streets demanding that our voices be heard," Yoo continued.
Fighting political corruption
In addressing the recent cases of corruption that embroiled the Los Angeles City Council, Yoo said dishonest politicians must be exposed and held accountable. "As a councilwoman, ensuring that our leaders act transparently, ethically and with integrity will continue to be my guiding principles," she said. Yoo also believes the city budget needs to be overhauled.
"We need to end corruption that pulls resources away from good, quality city services," Yoo explained. "Our government needs to show fiscal restrain and do a better job of allocating limited resources."
Yoo further spoke to her passion for quality-of-life issues affecting residents of the 10th District.
"I have worked tirelessly with residents and business owners of the 10th District, listening to their concerns and helping tackle them," she said. "Now I want to take my experience and the diverse voices of those in CD 10—the voices that I have listened to for decades seeking green space and safety measures—to the LA City Council and make them heard and acted upon. I am the person to do that. I am the positive change we need."
Admittedly "not a politician," Yoo touts her experience working with both local and state government. She has worked in the State Treasurer's office, and has founded and volunteered for numerous organizations that "bring concerns and creative solutions to our government" to provide, she said, a better relationship between elected officials and their constituents.
Among Yoo's endorsements are those from the Korean American Commissioners Association, United Teachers Los Angeles, Fight 2 Save Black LA, National Women's Political Caucus, Southern California Americans for Democratic Action, along with the stamp of approval from Rep. Mark Takano (CA-41), LAUSD Board Member Jackie Goldberg, former City Councilman Bernard Parks, former City Controller Laura Chick, and former State Treasurer John Chang.
Yoo, 49, is a graduate of Seton Hall University School of Law and holds a Juris Doctorate. Previously, she attended UC Riverside and earned a B.A. degree in Political Science.