Debate an embarrassment for America
Moderator repeatedly interrupted by candidates
Stacy M. Brown NNPA Newswire Senior National Correspondent | 10/1/2020, 11:51 a.m.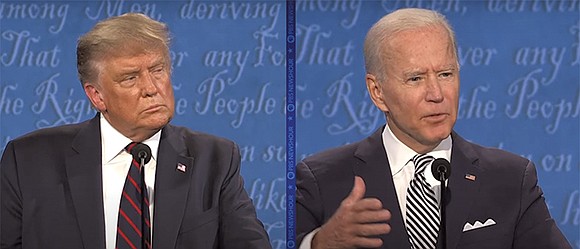 American politics nose-dived, spiraled and crashed and burned during what masqueraded as the first 2020 presidential debate.
"You're a clown!" "Would you shut up, man!" "Everything you say is a lie."
Those were just some of the barbs from Democratic Presidential Nominee Joe Biden who grew irritated by repeated interruptions by President Donald Trump at Case Western Reserve University in Cleveland on Tuesday.
Trump, who received a regular rebuke from moderator Chris Wallace, claimed Biden was weak and unintelligent.
"Don't ever use the word smart with me," Trump railed at Biden. "There's nothing smart about you, Joe."
Wallace opened discussions on race.
"Are you willing, tonight, to condemn White supremacists and militia groups and to say that they need to stand down?" the moderator asked Trump.
"Proud Boys, stand back and stand by," Trump reluctantly said in a declaration that fell well short of condemnation. "But," Trump insisted, "I'll tell you what, somebody's got to do something about Antifa and the left."
Biden blasted Trump's handling of the coronavirus, noting that more than 200,000 people have died, and some 40,000 people are still contracting COVID each day.
"The President has no plan. He hasn't laid out anything," Biden charged.
Trump responded that a vaccine and life-saving treatments might come before the election.
"We've done a great job," Trump added, accusing the "fake news" of distorting his record on the virus. Trump claimed a Biden administration would have "lost far more people."
The ugly match further disintegrated when the topic turned to Trump's income tax returns, which he has refused to release publicly.
"You are the worst president America has ever had," Biden told Trump.
Biden's campaign released the former vice president's 2019 tax returns before the debate, which showed he paid nearly $300,000 in federal income tax last year.