Lancaster Museum of Art & History emphasizing women, people of color
MOAH announces several acquisitions to its collection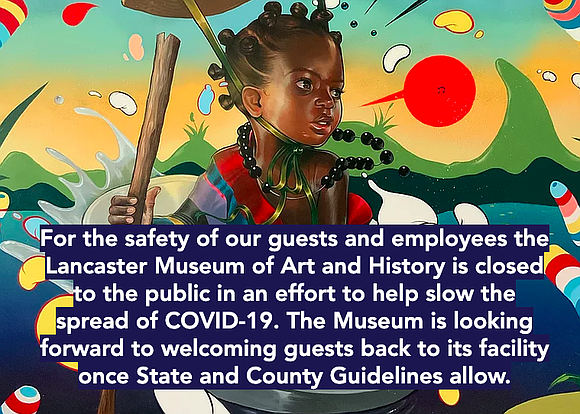 In an ongoing effort to engage with and represent the interests of the Antelope Valley community, the Lancaster Museum of Art & History (MOAH) is excited to announce a number of recent acquisitions to its permanent collection.
The newly acquired artworks play a role in emphasizing women and people of color in the southern California art world with pieces focused on topics such as identity and self. These acquisitions were made possible through donations by artists, private galleries and collections including the Chaney Family Collection, the Mark Moore Fine Art Gallery, Walter Maciel Gallery, and LAUNCH LA Gallery, with purchases utilizing funds allocated by the Lancaster Museum and Public Art Foundation (LMPAF).
The newly acquired pieces include work by Ali Smith, Julie Opperman, Carla Jay Harris, Lezley Saar, Gisela Colon, Alex Anderson, Kelly Berg, Leigh Salgado, Miya Ando, Robert Von Sternberg, Darryl Curran, Sheila Pinkel, Nancy Webber, Suda House, and Melanie Walker.
At the forefront of these recent acquisitions is a piece titled Crevasse by artist Ali Smith, generously donated by Jereann Chaney and her daughter, Holland Chaney, who are both advocates and patrons in the world of contemporary art. Crevasse comes from the Chaney Family Collection in Houston, Texas, which is concentrated on young and emerging artists in the global contemporary art community.
Smith creates works of art utilizing abstract design to detail the existential nature of self-identity, weaving together the fleeting nature of time and existence to present a sense of hope within reality by paralleling aspects of her own life into a tangible experience for viewers. Smith says her paintings are an attempt to make sense of and sort through the visual and cultural clutter encountered in daily life.
Works by Julie Opperman, Lezley Saar, and Carla Jay Harris were obtained through Mark Moore Fine Art, Walter Maciel Gallery, and LAUNCH LA Gallery. Using her background in neuroscience, Julie Opperman's work pushes the boundary of visual perception by intentionally creating paintings that are difficult to perceive.
Saar explores the topic of emotional conflict and identity from the perspective of a biracial woman, traversing through the ambiguity of coming from multiple backgrounds and identity beyond the superficial veil of appearance. Carla Jay Harris explores the role of space and how it influences sense of self, using her own identity and experiences to delve deeper into the state of human existence while exploring how differing environments may project onto the development of identity.
Other recently acquired works were donated by artist Gisela Colon, including art by herself, Alex Anderson, Kelly Berg, and Leigh Salgado. Alex Anderson is driven by a philosophical and existential examination of identity, politics and empowerment. His work addresses conceptions about blackness, masculinity and self-awareness through modes of expression driven by classical and western art, speaking on stereotypes and social perceptions by giving form to intersecting realities and variable identities.
Berg creates art guided by both internal and external forces that leads to texturally stimulating pieces, often led by natural phenomena and her personal experiences. Leigh Salgado is known for crafting delicate pieces of fine art with detailed paper cutting techniques to create abstract imagery that lends itself to aspects of recognizable familiarity. Gisela Colon challenges the concept of identity through gender with her fluid sculptures that disrupt the masculine nature of minimalism through embodied energy and movement, with her work taking on a strong feminist perspective.
Additional artwork was donated by Miya Ando, an artist well-known for her unique metal paintings and etchings. Ando finds inspiration from the transience of natural phenomena and is guided by her family's history as Japanese swordsmiths. Having spent her early life in a Japanese Buddhist temple, Ando integrates meditation and stillness as a means of creation.
Another contribution was made by the Museum Project, a philanthropic association of photographers headed by Robert Von Sternberg and Darryl Curran. The Museum Project seeks to express gratitude to museums and other institutions that actively support the development of arts, driven by the idea of artists "giving back" to the museum world. Artists represented under this collective include Nancy Webber, Sheila Pinkel, Suda House, Melanie Walker, Robert Von Sternberg and Darryl Curran, among others. Beneficiaries of the project are now numbering around 100 museums.
MOAH is located at 665 W. Lancaster Blvd. It is currently closed in response to the COVID-19 pandemic. All programming is available via virtual tours and via online platforms. For more information, visit www.lancastermoah.org. You can get a closer look at the recent acquisitions by visiting https://lancastermoah.pastperfectonline.com/.