Baldwin Hills Mall offers drive-in experience
Black Wall Street film explores the massacre of the Tulsa Greenwood District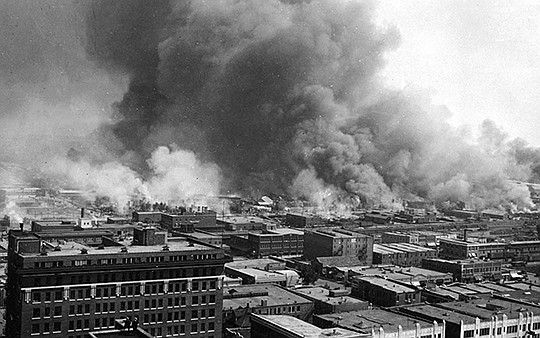 On Nov 20 and 21, at 5 p.m, the Baldwin Hills Plaza will host the "I've Known Rivers Film Festival," a drive-in event to benefit FAMLI, Inc., a nonprofit agency that, since 1992, has offered dynamic youth, arts & education and culturally relevant programs and services for deserving members in the community.
Visit https://famlisoul.org/ive-known-rivers-film-festival/ to purchase tickets, volunteer, sponsor youth & families and vendor your food and or products. Then enter the mall parking lot off of Stocker Ave. and Crenshaw Boulevard, near Sears.
A short film showcase will be featured Friday and "Black Wall Street, the Rise & Fall of T-town,- Greenwood" will be screened on Saturday and is the painful, (and triumphant) story of the rise and fall the most pristine, wealthiest Black community in America (1890's - May / June, 1921) subsequently destroyed by an angry, white, racist, mob, seething with jealousy, hate and envy. When the smoke cleared, it has been estimated that more than 35 city blocks was totally destroyed, over 300 innocent people were murdered in cold blood, while 10,000 folks were rendered homeless with an estimated $1.5 million in property losses, ($33 million in 2020 dollars).
However, as terrible as this story is/was, the silver lining is the fact that a proud, dignified, determined people, only 35 odd years out of slavery, built a beautiful life for themselves. Greenwood, (encouraged and inspired by segregationist laws, the legendary Booker T. Washington and an oil boom) boasted a plethora of Black lawyers, doctors, beauticians, architects, and other professionals and laborers. Additionally, the people built grocery stores, two movie theaters, a black business association, a library, their own bus line, cab (jitney) companies, 13 churches, a hospital, funeral homes, schools, barber shops, hotels, gas stations, and much more, all constructed and run by colored (Black) people.
It must be mentioned that when the madness began, the Black men of Tulsa stood up and fought back, they defended their families and communities with their lives.