Historic health disparities make COVID-19 more lethal for Blacks
Exposing the racial fault lines
Merdies Hayes Managing Editor | 5/22/2020, midnight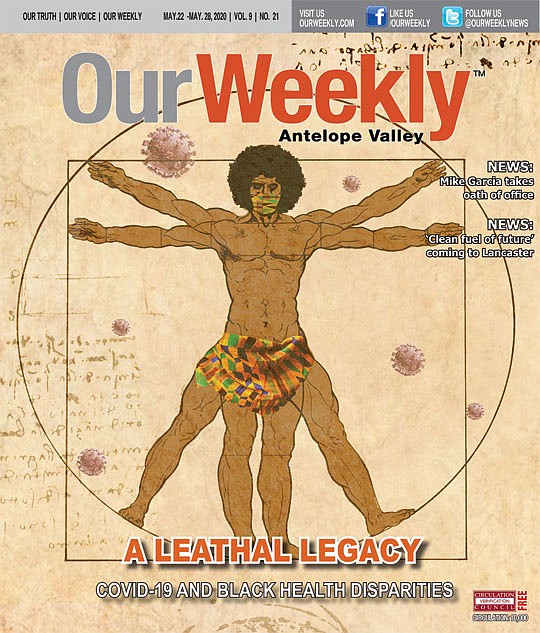 The heavy flow of vehicle traffic in the inner-city—along with a lack of sufficient green space for exercise—may demonstrate that African-Americans are especially prone to higher levels of lead and air pollution.
Van Jones, the political commentator who formerly worked in the Obama Administration as a staunch advocate of the Affordable Care Act, said "high-density' locales among African-Americans have contributed to the high rates of coronavirus infection within the community
"Coronavirus spreads faster in locations with higher density, such as cities," Jones said. "Black Americans are more likely to live in urban counties than suburban or rural ones. And within these areas, Black Americans are more likely to have lower incomes, which may press them into crowded living conditions."
Chronic disinvestment in Black community
Jones' comments echo many reports that illustrate a number of structural factors that may contribute to more Black people becoming infected and dying from the virus. African-Americans may suffer more infections because they are exposed more, and once they are infected they are dying more because they have borne the burden of chronic disinvestment (and) active socio-political neglect of their community.
African-Americans have less access to medical care and may often distrust caregivers. Inequalities in access to health care—including inadequate health and fears of racial discrimination—can make it harder for many African-Americans to access the sort of preventative care that keeps chronic diseases in check. A 2017 report in the Annual Review of Public Health suggested that a lack of regular preventative care means that African-Americans are more likely than any other racial group in the nation to be hospitalized—or re-hospitalized—for asthma, diabetes, heart failure and post-surgery complications.
The CDC has additionally reported that about 89 percent of people with COVID-19 who were sick enough to be hospitalized had at least one chronic condition. About half had high blood pressure and obesity. Another two-thirds had either diabetes or cardiovascular disease.
"Obesity is a marker for a number of other problems," said Dr. Aaron Carroll, a public health researcher at the Indiana University School of Medicine. "It's not a stretch to say that one reason why COVID-19 is taking its toll on people who have obesity is that their overall health is often compromised."
Fatal barriers for the uninsured
All of these health issues that may exacerbate the effects of coronavirus upon African-Americans could be mitigated early with proper medical care. But they're not. In 2018, the U.S. Department of Health and Human Services Office of Minority Health (HHS) reported that only 4 percent of African-Americans had health care coverage, compared with an estimated 93.7 percent of White Americans. Eighty percent of African-American women suffered from obesity, compared to 64.8 percent of White women. As well, 42 percent of African-American adults over age 20 suffer from high blood pressure, compared with 28.7 percent of White adults.
A 2016 report from the Kaiser Commission on Medicaid and the Uninsured backs up the HHS finding.
"The access barriers facing uninsured people mean they are less likely to receive preventative care, are more likely to be hospitalized for conditions that could have been prevented, and are more likely to die in the hospital than those with insurance," the report said in stipulating that the lack of access exacerbates the impact of the COVID-19 outbreak. Because more African-Americans have no health insurance coverage, they are more likely to rely on hospital emergency rooms for primary care—departments that have become overwhelmed with the surge of COVID-19 patients.