Conga Kids dance out emotions
New "Social Dance for Social Distancing" program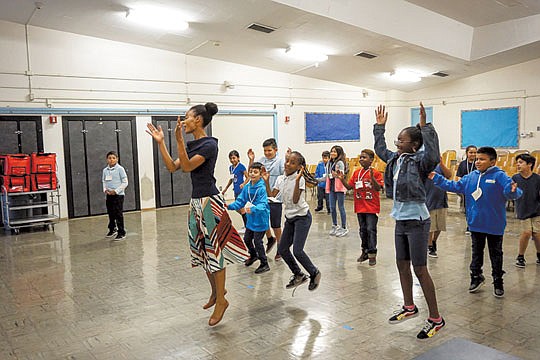 As a result of the sudden need for distance-learning programs, Conga Kids, a nonprofit that fosters social and emotional wellness through partner dance in Los Angeles County schools, will release "Social Dance for Social Distancing," online lessons. The lessons will not only serve its 10,000 fifth and sixth grade students in more than 100 schools in 12 school districts throughout L.A. County, but for young people across the country as well.
"As students have been isolated and deprived of culturally and emotionally based arts curriculum, Conga Kids transitioned into an online/distance-learning program to meet the demands of the current COVID-19 crisis," said Conga Kids Founder and President Brad Gluckstein. "We responded swiftly, creating 'in-house' content, literally in living rooms and backyards of our teaching artists, to disseminate to school districts and ultimately to reach a broader population of kids, parents, and educators."
At its core, Conga Kids teaches five partnership dances: Salsa, Merengue, Swing, Tango, and Foxtrot as part of the school curriculum. Its new "Social Dance for Social Distancing" program is a 10-lesson interactive web series without the need for a dance partner. The online curriculum includes African, Hip Hop, Cha Cha, and other active dances. Lessons will provide historical perspectives and rituals as well as live-to-tape musicians and performances.
Available to current Conga Kids students, 40-minute online lessons will include diverse, high energy dance tutorials, social-and-emotional arts-based activities, short-form history, geography, music lessons, and more.
To provide equal access to others in Southern California and across the country who have not participated in the program before, Conga Kids will release free vignettes on its YouTube page throughout the month of May.
"While partner dance is at the core of our program, we pivoted quickly to ensure that students can still have their lessons at home while social distancing," said Conga Kids Program Director Devin Holliman. "We know that dance not only instills confidence in young people, but we understand that movement is integral for their mental, emotional and physical wellbeing."
Looking ahead to the upcoming 2020-2021 school year, Conga Kids will also develop and implement an alternative "no-touch" dance curriculum and the program has already received support from school districts.
Conga Kids serves largely Latino and African-American 10 and 11-year-olds in predominantly Title I, historically disadvantaged communities with little access to the arts. Participating school districts include Los Angeles Unified; Long Beach Unified; Lynwood Unified; Pomona Unified; Mountain View; El Monte City; Hacienda La Puente Unified; and Baldwin Park Unified School Districts, as well as schools from charters such as ICEF and Value.
Conga Kids is a corporate citizenship partner of The Conga Room, Los Angeles' renowned music and dance venue at L.A. Live. Co-owners include Gluckstein, as well as celebrities like Jimmy Smits, Jennifer Lopez, Paul Rodriguez, Sheila E., will.i.am and basketball players Baron Davis and Trevor Ariza. To learn more about Conga Kids, visit www.congakids.org.