Super Tuesday results
Joe Biden leads in delegates
lisa fitch Editor-in-chief | 3/5/2020, midnight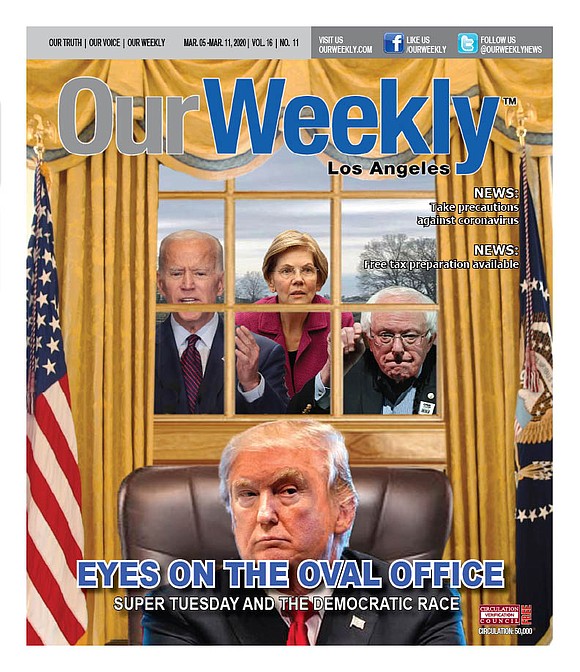 Californians were able to cast their election votes earlier than usual, joining in with 13 other states and American Samoa for "Super Tuesday" on March 3.
It was a super day especially for Joe Biden, who on Monday, gained endorsements from three democrats who dropped out of the race. At press time, Biden was declared the victor in nine Super Tuesday states; Sanders had four; and although Bloomberg won American Samoa along with some delegates from other states, on Wednesday morning he decided to end his campaign.
There were 415 delegates at stake in California. At this writing, state democrats voted their preference for Bernie Sanders, who gained 37.76 percent of the votes. Biden came away with 26.58 percent and Elizabeth Warren drew 12.12 percent of Tuesday's democratic votes.
"I'm here to report we are very much alive," Biden said at a Tuesday night rally held in Baldwin Hills. "Make no mistake about it, this campaign will send Donald Trump packing. This campaign is taking off."
Sanders has not conceded, though, and spoke in Vermont on Tuesday.
"Tonight I tell you with absolute confidence we are gonna win the Democratic nomination and we are going to defeat the most dangerous president in the history of this country," Sanders said.
Dr. Manuel Pastor, a distinguished professor of Sociology and American Studies and Ethnicity at USC, watched the campaigns closely. His research has generally focuses on issues of the economic, environmental and social conditions facing low-income urban communities and the social movements seeking to change those realities.
"While 'Super Tuesday' breathed renewed life into Biden's campaign, California continued to be a state of resistance," Pastor said. "The endorsements mattered and I think the South Carolina victory for Biden made it clearer that he has the ability to make inroads to the southern part of the black vote."
Pastor believes that if Biden ultimately wins the nomination, there may be less financial giving from the pro-Sanders, progressive Californians toward November's election, even though the Trump presidency is seen as a crisis.
"We have a president who is refusing to deal with police brutality," Pastor said. "He doesn't talk about White supremacy. His tactics and politics on immigration make him an existential threat to Latinos."
Pastor believes that California will play a huge role as both campaigns move toward the convention.
"I think in California, Sanders won, not handily but impressively," the professor said. "As America's most populated state, the continuing divergence between what Californians desire and what the rest of America votes for is both striking and worrisome."
The Los Angeles County Registrar-Recorder's office said more than 20 percent of eligible registered voters cast ballots. By Wednesday morning, more than 1,137,023 ballots had been processed and counted. Once the provisional and vote by mail ballots are verified they will be counted. For updates on the election results, visit www.lavote.net.
Some voters stood in line for hours and were not able to cast their votes until after midnight, due to technical problems at some Voting Centers. The registrar's office is looking to reassess and improve the new voting experience in LA County, as accessibility equipment and Voting Center issues need to be addressed before November.