No show, no paycheck
COVID-19 takes its toll on every level of entertainment industry
Gregg Reese OW Contributor | 6/26/2020, midnight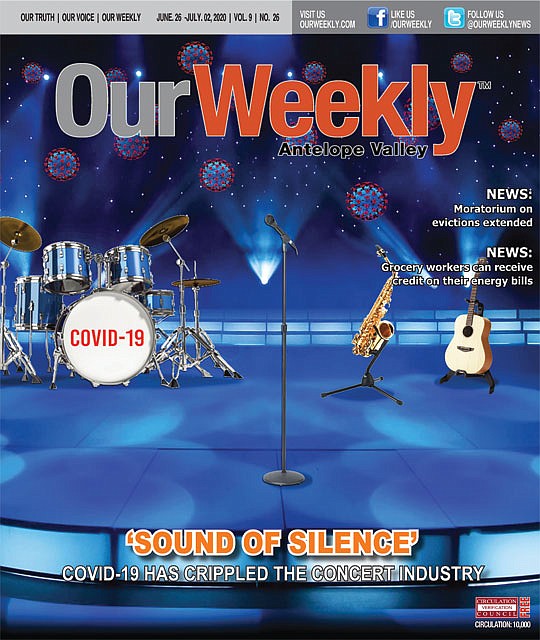 Big loses for those with big pockets
For many of us, the listening experience in the privacy of one's home, even on a high-end stereo, cannot compare with the joy of a concert in the company of like-minded aficionados.
Candace Newman is acutely aware of the allure of experiencing music in a live environment. The Los Angeles native parlayed her love for music and public events into a lucrative career booking and promoting concerts as one of the few Black women executives in her field. She has started her own entity, Live Out Live, to introduce minorities and women into this traditionally exclusive realm (LiveoutLive.com) Presently the director of American tours with Live Nation, she is in an ideal position to access the effect COVID-19 has on the entertainment industry.
Conceived from the merger of Live Nation and Ticketmaster circa 2010, Live Nation Entertainment manages ticket sales throughout the United States and internationally, owns the majority of most of the amphitheaters in this country, and manages the careers of major musical artists.
Newman has been with the company for over a decade after starting out as an assistant. A few short months ago, she and her colleagues approached the New Year with an expectation of confidence.
"It was anticipated that this would be the biggest year of our existence," she remembers. A God-fearing woman, she ruefully surmised that the Lord had other plans.
Newman conservatively estimates revenues of hundreds of millions of dollars lost (worldwide) since its March quarantine start in her company alone. All conventional concerts for the rest of 2020 have been canceled as well, she adds.
In such a highly profitable industry, alternate methods of presentation utilizing minimal physical interaction have been sought out and implemented. These include scenarios involving drive-in venues (with a maximum four people a car). Regardless of the alternatives, the results still include a major loss of revenue. The corporate aim is to minimize losses and retain the momentum of the concert business.
One option involves marketing events in which perhaps 1200 people will be admitted into a venue normally designed for perhaps 12,000 to 20,000 patrons.
"The concert-going experience is different, now," Newman notes.
Curiously, millennium advances in technology may provide a refuge of sorts to COVID-19. Streaming platforms, a phenomenon advancing by leaps and bounds since the days of Napster and copyright infringement, is a particularly intriguing prospect.
Unsung victims in the downturn
Needless to say, this loss of income affects everyone in the economic pyramid. Newman reckons some 25 percent of the company's employees have been laid off. Still others have been placed on furlough, or temporary leave (whether they will return to the company's roster is up in the air). These individuals in turn, will join the unemployment ranks, placing an additional drain on the economy as a whole.
Cutbacks filter down the food chain, as ticket takers, concession workers, custodians, and myriad and sundry wage earners (and their dependents) succumb to the knife.
The haphazard, meandering income of the typical musician serves as an impediment to public assistance even in normal times. The advent of COVID-19 further complicates things.
Federally sponsored efforts to address this include the Pandemic Unemployment Assistance, or PUA (https://bit.ly/3evq3tT) is a provision specifically available for those unable to work due to COVID-19, and don't qualify for regular unemployment. It is under the umbrella of the Coronavirus Aid, Relief, and Economic Security Act (CARES Act), the nine-figure stimulus package initiated by the current administration to address this economic fallout.
Reprieve in a volatile environment
More specifically, musicians and others in the entertainment industry impacted by these harsh times may find assistance via the Internet. A good place is at https://www.grammy.com/musicares, the Grammy's online safety net. Another source is the online musical entity Bandcamp (https://bandcamp.com/), which has raised millions in relief for those impacted by the pandemic.