Suspicion surrounds deaths of minority men in the Southland
Local events are just the latest in a uniquely American practice
Gregg Reese OW Contributor | 6/19/2020, midnight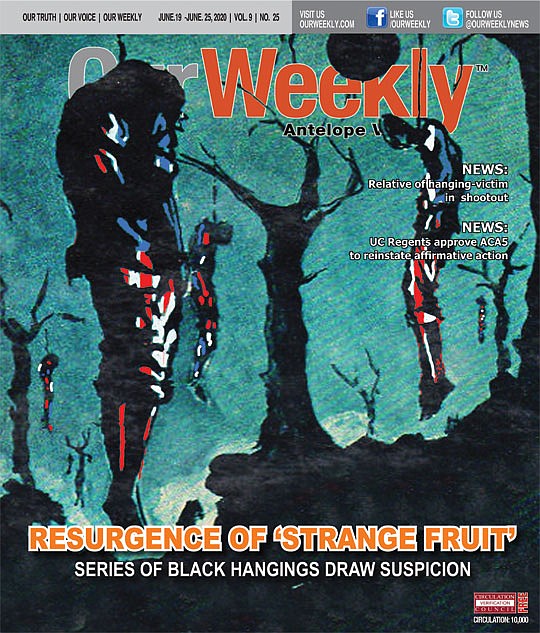 Lynch- To put to death (as by hanging) by mob action without legal approval or permission.
—From the Merriam-Webster Law Dictionary.
The millennium drama of race has added a grim addition in southern California with the deaths by hanging of two Black men. Robert Fuller and Malcolm Harsch, were found hanging from trees some 50 miles from each other in Los Angeles and San Bernardino counties, respectively. 
Fuller, 24, was discovered near the Palmdale City Hall at approximately 3:39 a.m. on June 10, while Harsch's body was recovered earlier on May 31 at about 7 a.m. in the vicinity of a homeless encampment near the Victorville Library. Both deaths were initially deemed suicides, but public outcry has prompted further inquiries by the California Attorney General's Office, the FBI and other agencies. 
 Lisa Eimiller, media coordinator/spokeswoman for the FBI's Los Angeles Field Office, issued the following statement to Our Weekly: 
"The FBI, U.S. Attorney's office for the Central District of California and the Department of Justice Civil Rights Division are actively reviewing the investigations into the hanging deaths of two African-American men in the cities of Palmdale and Victorville to determine whether federal law has been violated." 
California Attorney General Xavier Becerra, at the request of LA County Sheriff Alex Villanueva, has assigned his own team of investigators to assist. Meanwhile, the Fuller family has announced they will call for an independent investigation into his demise, as have the relatives of Harsch. 
A further addendum to these tragic events includes reports of similar deaths back east. Houston, Tex. police reported a 39-year-old Hispanic man (identity with held pending family notification) was found on June 15. The press release follows: 
HPD Homicide Division Officers J. Caten and D. Higgs reported that officers were dispatched to a field at the above address for an individual hanging from a tree. Statements from the victim's family and evidence collected indicated the incident appeared to be a suicide. 
An autopsy ruled the death as a suicide, with no foul play suspected at this time. 
Additionally, an African-American teenager (also unidentified) was found in the Houston suburb of Spring, TX on June 8. The body of the unfortunate youth was recovered in a tree outside the Ehrhardt Elementary School. An autopsy is pending. 
Further east in the New York borough of Manhattan, a pedestrian came upon the body of 27-year-old Dominique Alexander hanging in a tree at Fort Tryon Park near the Hudson River on June 9. The medical examiner has ruled his death a suicide. 
A Grisly Legacy: as American as apple pie 
"The publication of 'Without Sanctuary: Lynching Photography in America' helped bring greater awareness and proper recognition of the victims of lynching." 
—From House Resolution 35 
 Lynching in America has its own unique, twisted tradition dating back to its earliest history as European expatriates struggled to "settle" the untamed wilderness. In the absence of any formal judicial system, "neck tie parties" were a handy method of meting out justice in a harsh and forbidding land. More over, it served as a means of "social control" in dealing with Native-Americans opposed to the appropriation of their ancestral lands, and the African slaves imported to mold the frontier into the precepts of "civilized normalcy." 
These traditions continued with westward expansion, to facilitate the submission of Mexicans (perhaps 5,000 vanishing between 1910 and 1920) in the southwest, and Asians inducted into the railroad industry along the west coast. 
In the aftermath of the Civil War and the start of what became known as "Reconstruction," lynching increased as a technique in which to keep the newly emancipated "in their place." The main practitioners of this method of repression were the Klu Klux Klan, a group launched by Confederate Gen. Nathan Bedford Forrest. A brilliant military strategist and an early proponent of "guerilla warfare," Forrest used his military acumen to shape the Klan into the premier White terrorist contingent, and served as its first "Grand Wizard."
At the turn of the 21st century, a gay man, one James Allen (a member of a marginalized group with its own heritage of persecution) compiled an archive of nearly 100 photographs chronicling this American past time. These resources were readily abundant, as amateur and professional photographers alike regularly documented these events, to be sold as postcards and souvenirs.
This pictorial collection, titled "Without Sanctuary: Lynching Photography in America," was published in 2000 (now out of print). It remains relevant today as it inspired a bill introduced in January of 2019 by former Black Panther and now Congressman Bobby Rush (D-IL). That legislation is still languishing among our nation's lawmakers in Washington, DC.
Impeding progress: The struggle continues 
"At least 4,742 people, predominantly African Americans, were reported lynched in the United 12 States between 1882 and 1968."
—From H.R. 35 
Today, as demonstrations and protests rage worldwide under the mantel of "Black Lives Matter" another battle rages to make this insidious staple of American history a relic of the past. Spearheaded by Senators Cory Booker (D-NJ), Kamala Harris (D-CA), and Tim Scott (R-SC), H.R. 35 will make lynching a federal crime (punishable by up to life imprisonment). It has been dubbed the Emmett Till Anti-lynching Act, in memory of the 14-year-old who was beaten and murdered in 1955 after he allegedly "wolf whistled" at a White woman. 
The killing shocked the nation and is regarded as a catalyst for the Civil Rights Movement. (Till's accuser, one Carolyn Bryant Donham, recanted in 2017, and admitted to White Duke University professor Timothy B. Tyson that her allegations were false). 
The primary opposition to the bill comes from Sen. Rand Paul (R-KY), who criticizes the manner in which the bill was written. He reasons that its interpretation could deem simple assaults as lynching, and should be more specific in its definition. 
The study of history is a necessary practice in order to understand current events, and anticipate the future. That said, today's headlines assure us that the practice of lynching has no immediate resolution in the foreseeable future. 
 The jury is still out.