Suspicion surrounds deaths of minority men in the Southland
Local events are just the latest in a uniquely American practice
Gregg Reese OW Contributor | 6/19/2020, midnight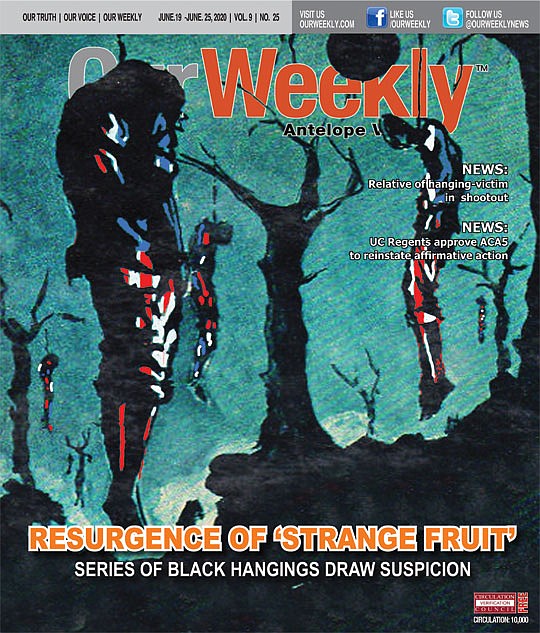 Lynch- To put to death (as by hanging) by mob action without legal approval or permission.
—From the Merriam-Webster Law Dictionary.
The millennium drama of race has added a grim addition in southern California with the deaths by hanging of two Black men. Robert Fuller and Malcolm Harsch, were found hanging from trees some 50 miles from each other in Los Angeles and San Bernardino counties, respectively. 
Fuller, 24, was discovered near the Palmdale City Hall at approximately 3:39 a.m. on June 10, while Harsch's body was recovered earlier on May 31 at about 7 a.m. in the vicinity of a homeless encampment near the Victorville Library. Both deaths were initially deemed suicides, but public outcry has prompted further inquiries by the California Attorney General's Office, the FBI and other agencies. 
 Lisa Eimiller, media coordinator/spokeswoman for the FBI's Los Angeles Field Office, issued the following statement to Our Weekly: 
"The FBI, U.S. Attorney's office for the Central District of California and the Department of Justice Civil Rights Division are actively reviewing the investigations into the hanging deaths of two African-American men in the cities of Palmdale and Victorville to determine whether federal law has been violated." 
California Attorney General Xavier Becerra, at the request of LA County Sheriff Alex Villanueva, has assigned his own team of investigators to assist. Meanwhile, the Fuller family has announced they will call for an independent investigation into his demise, as have the relatives of Harsch. 
A further addendum to these tragic events includes reports of similar deaths back east. Houston, Tex. police reported a 39-year-old Hispanic man (identity with held pending family notification) was found on June 15. The press release follows: 
HPD Homicide Division Officers J. Caten and D. Higgs reported that officers were dispatched to a field at the above address for an individual hanging from a tree. Statements from the victim's family and evidence collected indicated the incident appeared to be a suicide. 
An autopsy ruled the death as a suicide, with no foul play suspected at this time. 
Additionally, an African-American teenager (also unidentified) was found in the Houston suburb of Spring, TX on June 8. The body of the unfortunate youth was recovered in a tree outside the Ehrhardt Elementary School. An autopsy is pending. 
Further east in the New York borough of Manhattan, a pedestrian came upon the body of 27-year-old Dominique Alexander hanging in a tree at Fort Tryon Park near the Hudson River on June 9. The medical examiner has ruled his death a suicide. 
A Grisly Legacy: as American as apple pie 
"The publication of 'Without Sanctuary: Lynching Photography in America' helped bring greater awareness and proper recognition of the victims of lynching." 
—From House Resolution 35 
 Lynching in America has its own unique, twisted tradition dating back to its earliest history as European expatriates struggled to "settle" the untamed wilderness. In the absence of any formal judicial system, "neck tie parties" were a handy method of meting out justice in a harsh and forbidding land. More over, it served as a means of "social control" in dealing with Native-Americans opposed to the appropriation of their ancestral lands, and the African slaves imported to mold the frontier into the precepts of "civilized normalcy."