The masses speak (Again)
But has the police culture changed?
Gregg Reese OW Contributor | 6/5/2020, midnight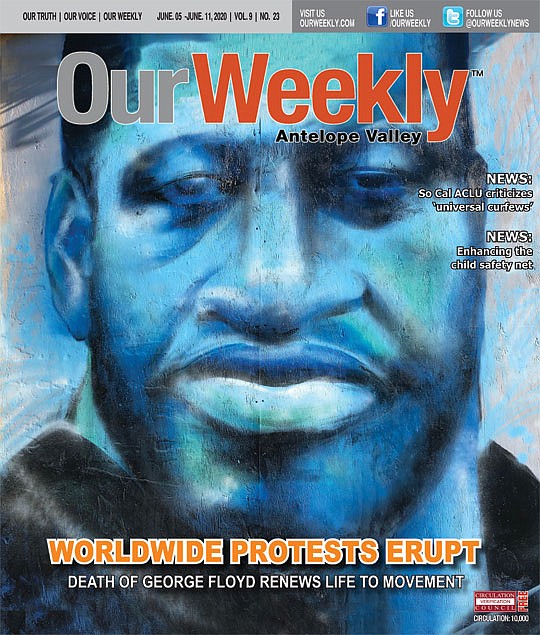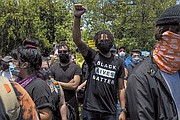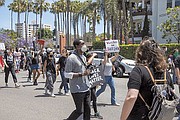 Curiously, the intervals between Los Angeles' major civil uprisings clock in at 27 years (from the 1965 Watts upheaval to the debacle of 1992) and 28 years (between '92 and our current unrest) respectively. Whether these numbers are mere coincidence or have deeper significance remains to be seen.
A lifetime activist, photographer Louis Carr took a break from his usual involvement due to the COVID-19 pandemic and quarantine. With the public display of the George Floyd death and the fallout afterwards, he was compelled to don his protective mask and, with a group of like-minded friends, drove to the Fairfax District's Pan Pacific Park for a scheduled demonstration May 30.
Arriving just prior to noon, they listened to speeches by actor/activist Kendrick Sampson and others. Afterwards however, things steadily crept downhill.
For the next two hours this peaceful protest devolved into anarchy, led by a largely White crowd dressed head to toe in black. This transpired in front of two police lines; the first manned by officers, their badges and name tags clearly visible, the second anonymous with the exception of identifiers designating their unit as that of the elite "Metro" Division.
Carr witnessed two Black women praying in the midst of this turmoil before being "gutted" with a policeman's baton, apparently in an effort to move them. The carnage continued until 4 p.m., as the crowd broke windows at the Trader Joe's, and spray painted "BLM" (for Black Lives Matter) across the buildings despite the protests of actual Black Lives Matter members in the area.
Carr himself sustained three baton strikes as he murmured to himself, "This country hates Black people."
These matters were replicated in scores of locales across the country.
Reviewing these and other events, retired LAPD Sergeant Cheryl Dorsey simultaneously experienced regret as a Black mother of four adult males, and revulsion for witnessing televised behavior which "…violated everything we're taught and trained to do."
She pragmatically stated the result brings joy to both sides of the preverbal "fence," with their own personal agendas. Those of a certain mindset who hide under the banner "to protect and serve," will use these events as an excuse to "…get in a little (night) stick time."
Conversely, anarchists and others will seize upon the opportunity to plunder and engage in antisocial behaviors.
Retired and living out of state, former LAPD Captain Byford "Peter" Whittingham finds these current events predictable, as a sign of continued institutional racism.
"The culture is the same (as it was in 1992)," he said.
He sees "…no real sincerity within the LAPD hierarchy," to implement corrective measures to address these deficiencies.
Blacks who attain positions of leadership are hamstrung by the inevitable accusations of "playing the race card."
The answer, he suggests, may lie with those who traditionally hold the reigns of authority. Simply put, he seeks out "…courage within the non-Black leadership to acknowledge racism exists."
Both sides suffer under the unwritten maxims drilled into every recruit from the time they arrive at police academies, i.e., the push to "get their stories straight" in writing after incident reports.