Windsor Hills family survives COVID-19 battle
Advising everyone to take pandemic precautions seriously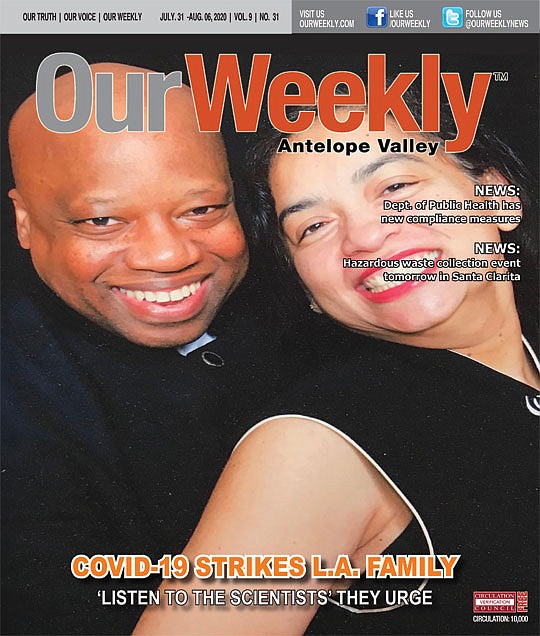 "He was doing everything incrementally," Stacy said. "We didn't leave the house until noon. And I'm thinking he's just being difficult."
When they got to the Cedars-Sinai emergency department, Keith told his wife that he thought he might need a wheelchair.
"In my ignorance, I'm thinking he just wants too much," said Stacy.
After dropping him off, she parked the car a few blocks away and waited, thinking her husband would get a quick check and be sent home with meds. But soon after, an emergency doctor called and asked some questions. Later Keith called.
"I'm right down the street and will be there in a minute to pick you up," she told him. He said "Oh no, I'm not coming back home, they're keeping me."
Keith had pneumonia. He was intubated and on a ventilator the next day. COVID-19 had caused Inflammation and was attacking his heart.
Fortunately, he was hospitalized at the same facility where Dr. Eduardo Marban and a team of colleagues have an experimental therapeutic which is used for muscular dystrophy patients with heart failure. The therapeutic, known as CAP-1002, produced by Los Angeles-based biotech firm Capricor, contains cardiosphere-derived cells (CDCs) grown in the laboratory from human heart tissues.
Doctors hoped to have success in helping a handful of COVID-19 patients get off ventilators, as the treatment relates to serious inflammation and/or damage to the heart, lungs and other organs.
Stacy gave her permission for the doctors to try the experimental treatment on her husband.
"'Friendly fire' is what's killing many coronavirus patients," said Marban, executive director of the Cedars-Sinai Smidt Heart Institute. "The immune system unleashes a so-called cytokine storm into the blood-overwhelming the body with infection-fighting proteins that can trigger multiple-organ failure and death."
Doctors intravenously administered CAP-1002 to Keith and the CDCs helped dampen his body's overreaction to stimuli.
Investigators emphasize that the patient outcomes, while encouraging, were not sufficient to prove that CAP-1002 is safe and effective for treating COVID-19, because this was not a clinical trial with a control group.
Within a day of his CAP 1002 infusion, Keith - who was in and out of delirium - inadvertently pulled out his own ventilator tube.
"Basically, it did save my life," Keith says of the experimental therapeutic. "And I am very thankful to the staff and to the doctors who worked on it."
A report on the procedure was published May 12 in the scientific journal "Basic Research in Cardiology." It is believed to be the first peer-reviewed report on using cell therapy in critically ill COVID-19 patients.
Keith was hospitalized for 15 days. Eight of those days were spent in the Cedars-Sinai Intensive Care Unit (ICU). After his discharge, he spent another two weeks in rehabilitation.
"When he came out, he had to see all these different ologists," Stacy said. "A host of specialists, because of the damage the virus does to your body. I say it's prayers and science that brought him back."
After his month-long ordeal, Keith is grateful to be home.
"There are still some people, even at my work, who think this illness is a hoax, that's what really gets me, the unbelievers" he said. "The mixed messaging going on: How the heat of the summer is going to dry it out and kill it. That it will 'poof' and go away.
"Listen to the scientists," Keith continued. "The politicians—they don't have those degrees."
The Miles' feel that, although they are survivors, they will never feel completely cured and cannot forget the misery of being ill with COVID-19.
"I'm good, but still 90 percent of what I once was," Keith said. "I have my foggy moments, still trying to find the correct words I want to say. The other day I was trying to remember a person's name, who I've worked with for the last 10 years. Those things really frustrate me."