Civil Rights icon John Lewis dead at 80
Walked beside Martin Luther King, Jr.
Lisa Fitch Editor-in-Chief | 7/24/2020, midnight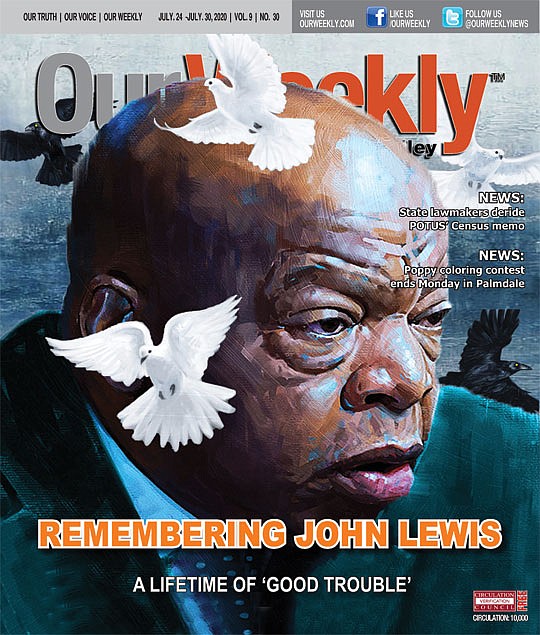 After leaving SNCC in 1966, Lewis continued his commitment to the Civil Rights Movement as Associate Director of the Field Foundation and his participation in the Southern Regional Council's voter registration programs. Lewis went on to become the Director of the Voter Education Project (VEP). Under his leadership, the VEP transformed the nation's political climate by adding nearly four million minorities to the voter rolls.
During another interview, Lewis reminisced that he was extremely proud of the day he saw his parents cast their first votes.
In 1977, John Lewis was appointed by President Jimmy Carter to direct more than 250,000 volunteers of ACTION, the federal volunteer agency.
In 1981, he was elected to the Atlanta City Council. While serving on the Council, he was an advocate for ethics in government and neighborhood preservation. He was elected to Congress in November 1986 and had served as U.S. Representative of Georgia's Fifth Congressional District since then.
In 1998, "Walking With the Wind: A Memoir of the Movement" the first book of Lewis' three-part retelling, was published. That library in Troy, the same one that years earlier refused him a library card, asked him to come back for a book signing. He did. They gave him a library card.
Lewis was the recipient of numerous awards from eminent national and international institutions, including the nation's highest civilian honor, the Medal of Freedom.
"Generations from now, when Americans teach their children what is meant by courage, the story of John Lewis will come to mind," Obama said during the 2011 ceremonies.
Lewis' dedication to the highest ethical standards and moral principles won him the admiration of many of his colleagues on both sides of the aisle and he was often called "the conscience of the U.S. Congress."
In his 2017 "Note to Self" broadcast on CBS This Morning, Lewis wrote the following words:
"I believe as Dr. King and A.Philip Randolph and others taught you—that we're one people. And it doesn't matter whether we're White or Black, Latino, Asian American or Native American. That maybe our foremothers and forefathers all came here in different ships, but we're all in the same boat now.
"John, you understood the words of Dr. King when you said we must learn to live together as brothers and sisters. If not, we will perish as fools."