Civil Rights icon John Lewis dead at 80
Walked beside Martin Luther King, Jr.
Lisa Fitch Editor-in-Chief | 7/23/2020, midnight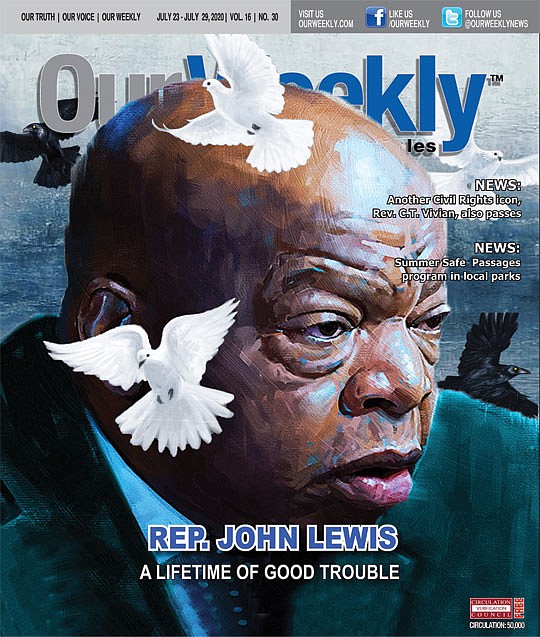 "My dear friends: Your vote is precious, almost sacred. It is the most powerful nonviolent tool we have to create a more perfect union."
—John Lewis' 2012 speech
in Charlotte, North Carolina
Rep. John Robert Lewis, (D-Ga.) the son of Alabama sharecroppers who survived a beating at the 1965 "Bloody Sunday" march in Selma, Ala. to become a US congressman, died on Friday evening after a six-month battle with cancer. He was 80.
"He loved his country so much that he risked his own life and blood so that it might live up to its promise," said Former President Barack Obama.
"It is with inconsolable grief and enduring sadness that we announce the passing of U.S. Rep. John Lewis," his family said in a statement. "He was honored and respected as the conscience of the US Congress and an icon of American history, but we knew him as a loving father and brother. He was a stalwart champion in the on-going struggle to demand respect for the dignity and worth of every human being. He dedicated his entire life to non-violent activism and was an outspoken advocate in the struggle for equal justice in America. He will be deeply missed."
Earlier this year, on Martin Luther King, Jr. Day, Rev. Emmett G. Price III joined "Boston Public Radio" to look back on Lewis' career, noting that he was grateful to Lewis for his tenacity in advocating for legislation that would eventually lead to the creation of the National Museum of African American History and Culture.
"It took him 15 years to get that bill passed, and every year consistently he shared that bill, so that what we have now in this new national museum is actually a reflection of the resilience and dedication of Congressman John Lewis."
On Dec. 29, 2019, the 17-term Lewis announced that he was receiving treatment for stage four pancreatic cancer.
Despite 45 arrests for his protests, Lewis remained a devoted advocate of the philosophy of nonviolence.
"I feel lucky and blessed that I'm serving in the Congress...but there is a force that is trying to take us back to another time and another dark period," he said during the recently produced on-demand documentary "John Lewis: Good Trouble."
"My greatest fear is that one day we wake up and Democracy is gone," he said.
The movie chronicles Lewis' political life, which began when he was a founding member of the Student Nonviolent Coordinating Committee (SNCC) and met Dr. Martin Luther King, Jr.
Lewis recalled segregation in his Troy, Ala. birthplace, including the local theatre, where Black children were escorted to the balcony, while White children were seated on the lower level. Later, he and his young relatives were turned away from the local library, which didn't serve Blacks.
"I would come home and ask my mother, my father, my grandparents, my great grandparents, why?" Lewis said during the American Library Association's 2013 Annual Conference in Chicago. "They'd say accept what is, don't get in the way, don't get in trouble. But one day in 1955 at the age of 15, in the 10th grade, I heard about Rosa Parks, I heard the words of Dr. Martin Luther King Jr. on the radio. And the action of Rosa Parks and the leadership and the words of Dr. King inspired me to find a way to get in the way. And I got in the way! And I got in trouble, good trouble, necessary trouble."