Nike sued for racial profiling
Nike sued for racial profiling
lisa fitch ediotr-in-chief | 7/16/2020, midnight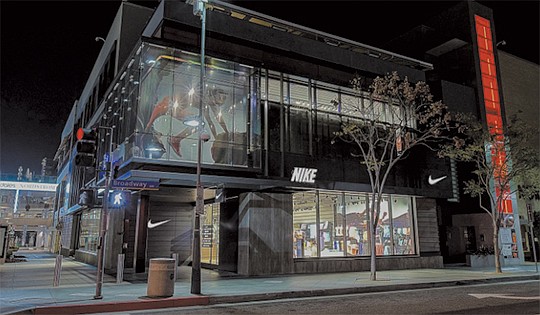 An African-American man who filed a federal civil rights lawsuit claiming he and his wife were racially profiled and wrongly accused of shoplifting by a manager at Nike's Santa Monica store last year said the incident has been a "dark cloud'' over his family.
Joel Stallworth and wife TaMiya Dickerson contend they were accused by White store manager Wendy Magee of stealing a $12 children's basketball on July 5, 2019, from the Nike store on the Third Street Promenade. Dickerson posted a video on Facebook shortly afterward, showing their infant son Samuel holding the ball in the store. It also shows a copy of the receipt from their purchase of the ball.
"This experience has been a dark cloud over our family,'' Stallworth said in a Zoom news conference on July 9. "She had no grounds to come at us like this.
Nike released a statement noting that it had reached out to the couple to "express our deepest apologies.''
Magee was fired, and subsequently filed a wrongful termination lawsuit against the company, according to the family's complaint.
"They fired the employee because she left the store, not that she was racist," Sallworth said, explaining that it was against store policy for Magee to leave the site. "According to Nike, no harm, no foul."
The family's suit, filed this month in Los Angeles federal court, says Magee followed the Stallworths out of the store and accused them of stealing the basketball. Although the family told the manager they had purchased the ball, she flagged down Santa Monica police officers for help.
"That's a recipe for disaster for a Black person in America," Stallworth said. "This type of behavior has to stop."
Stallworth and Dickerson are heard on their video insisting that they purchased the ball and had a receipt. After showing the receipt to officers, Magee is seen walking away, with Dickerson demanding a refund and an apology, saying they were being racially profiled.
The couple later went back inside the store and returned the ball.
After graduating from Stanislaus State University, Stallworth was a qualifier in the 400 meters in the 2008 IAAF World Championships in Spain, where he received a gold medal as a member of the winning 4x400 meter relay team. He wore the Nike logo on his uniform.
"I went to this shop looking to have a really good experience," Stallworth said. "This experience was robbed by evil racism. It was one of my most crazy experiences with evil ever."
The complaint seeks unspecified damages for alleged federal and state civil rights violations and attorneys' fees.
 "Nike ignored complaints about Wendy Magee to the point where her actions could have easily caused my death," said Stallworth. "What's the value of a life? I hope it's more than a $12 basketball. I'm taking this action because I don't want that to happen to another human being—not Black or Brown or White."
"Sweeping this under the rug might be good PR, but its gone on too long and it has to stop," said attorney Dan Stormer, who is representing the family. "These are model citizens and in one swift moment they were turned into potential criminals."