LAX info booths go virtual
Assistance booth on Terminal 2 lower arrival level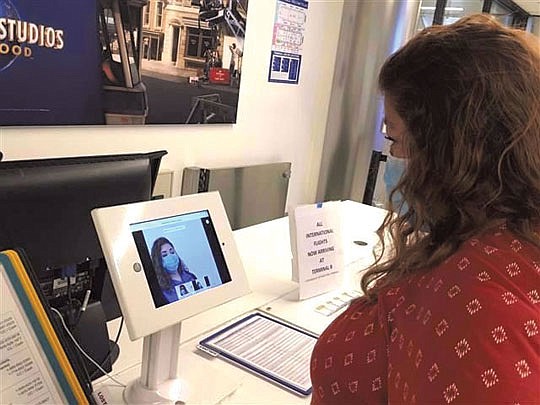 Guests at Los Angeles International Airport (LAX) now have access to Guest Experience Members (GEMs) via a two-way video monitor that is part of a pilot program to bring virtual help to the airport's information booths.
The Virtual Assistance pilot program, which is now available in Terminal 2, allows airport guests to have real-time conversations with a customer service professional over a touch-free tablet system installed at the information booths. Virtual assistance is one of many innovations deployed to help guests travel safely at LAX.
"Los Angeles World Airports (LAWA) is committed to being an international leader in creating a safe, healthy and clean airport experience, which includes creating a touchless and contactless environment wherever possible," said Justin Erbacci, Chief Executive Officer, LAWA. "Our Virtual Assistance pilot program is just one more way that we are using innovative technologies to maintain a world-class level of service while still keeping travelers safe."
As guests approach the information booth located on lower/arrivals level, they will find a tablet connected to a GEM waiting to help them from a remote location. GEMs are available to answer questions between 7 a.m. and 10:30 p.m. daily. The live video feed means guests can simply walk up to a tablet and begin a conversation as needed.
Some of the services offered by GEMs include help with directions, ground transportation, shopping and dining recommendations and more. If guests require immediate attention from medical or law enforcement personnel, the GEM can request their presence on the guest's behalf. Should a guest require translation assistance in a foreign language, the GEM will contact LAX's translation service.
The Virtual Assistance pilot project uses equipment already owned by the airport, and will continue through the end of the year.
The Virtual Assistance program is part of LAWA's ongoing efforts to help guests travel safely through LAX with the help of updated best practices and newly installed equipment. More information can be found at https://www.flylax.com/travelsafely