USC announces music scholarship honoring the late Victor McElhaney
'Bright light and promising young man'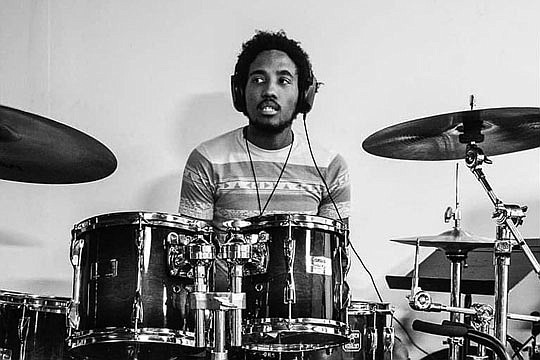 Victor McElhaney, a jazz student at the USC Thornton School of Music who was murdered a year ago during an attempted robbery blocks from campus, will be honored in perpetuity with an endowed scholarship in his name.
The Victor McElhaney Memorial Jazz Drumming Endowed Scholarship will provide support each year for an undergraduate drummer who reflects the spirit and ideals McElhaney represented.
McElhaney—the 21-year-old son of an Oakland city councilwoman—was an active member of USC's Center for Black Cultural and Student Affairs, a member of the USC Thornton's Afro Latin American Jazz Ensemble and various student combos. He hoped to utilize the power of music as a tool for social activism, according to the university.
The first recipient of the annual scholarship will be selected shortly by the school's jazz faculty for the fall 2020/spring 2021 academic year.
"Victor's death was a devastating loss for the Thornton School,'' said Rob Cutietta, dean of the USC Thornton School of Music. "He was a bright light, a promising young man who was unafraid to ask the important questions we are now asking, of ourselves and our country, in response to the Black Lives Matter movement. Victor left an impression on everyone he met, and I'm pleased that we will be able to honor his legacy with this scholarship.''
The son of Lynette Gibson McElhaney and Clarence McElhaney of Oakland, McElhaney was drumming before he could walk or talk, and began music instruction at the Oakland Public Conservatory of Music when he was 11. He later studied at the East Bay Center for the Performing Arts, the Oakland School for the Arts and California State University, East Bay before transferring to USC Thornton in 2017.
When he arrived, McElhaney was already performing at a professional level, said Peter Erskine, director of Drumset Studies at USC Thornton, who taught him privately for a year. "He had the touch, the feel and the musical understanding of a seasoned jazz musician,'' Erskine said.
McElhaney also studied with Aaron Serfaty, who led the jazz combo McElhaney was in, and spent a year in a combo under the direction of jazz vocalist Kathleen Grace, who described him as someone "full to the brim with musical ideas that he wanted to share.''
The scholarship endowment was created from gifts donated by many in the Thornton community including Erskine, Thornton Board of Councilors members, USC Trustees, a generous anonymous donor, and McElhaney's classmates. Erskine's gift, however, was unusually personal. He chose more than 100 cymbals from his own collection to auction online. McElhaney's classmates helped catalog, photograph and video-demonstrate the cymbals. With the help of The Professional Drum Shop in Hollywood, the cymbals found new homes and helped raise the scholarship's initial funds.
McElhaney, who was killed a mile from campus in March 2019, a month before his 22nd birthday, was mourned across the university. This academic year, the USC Black Alumni Association awarded a scholarship in McElhaney's name to USC Thornton Master's student Yafeu Tyhimba BM'19.