Record number of Black officials in place for Super Bowl
National
Carol Ozemhoya | OW Contributor | 1/31/2020, 10:55 a.m.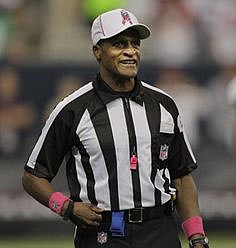 Football Zebra is reporting that the NFL has hired the first-ever minority dominated officiate crew in league history. The crew will be making history on Feb. 2 in Miami during what is probably the biggest sporting event in the world.
Before the Super Bowl, only three regular season or postseason games have had a majority African-American crew of officials. Super Bowl LIV will be the first game in league history to have five African-American officials on the field.
"Super Bowl officiating assignments are determined after reviewing every play of every game, and only those meeting the highest performance standards are considered," said Troy Vincent, NFL executive vice president of football operations. "These officials are the very best in the world with exemplary on-field performance, leadership and excellence that far exceeds the established criteria, and truly demonstrates the power of diversity and inclusion in this great game."
Umpire Barry Anderson is a builder/developer from Atlanta and is working his first Super Bowl. Having started his NFL career as a deep official, Anderson was transitioned to the umpire position for a potential promotion to referee. While his white hat has not come, he is still considered one of the top officials in the pipeline for future vacancies. In the meantime, he has really hit his stride in his new position, receiving four playoff assignments in the five years as an umpire.