Kobe Bryant death elicits fond memories of Lakers greatness
Watching a boy become a man
Merdies Hayes Managing Editor | 1/30/2020, midnight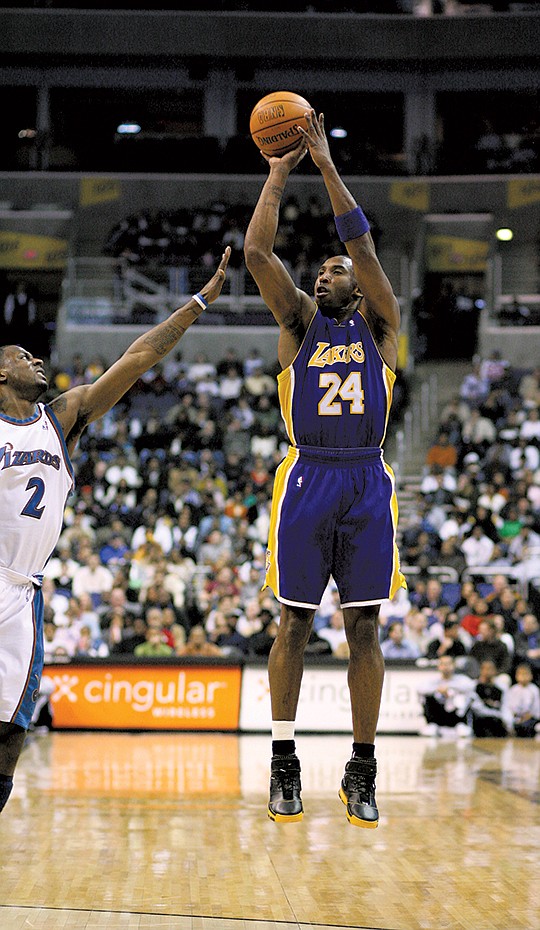 The next year, Bryant surpassed Jerry West's franchise record of 25,192 points scored as a Laker. He would capture his fifth and final championship in 2010—again being named finals MVP—as the Lakers defeated their arch-rival Boston Celtics in seven games. Besides a fifth ring, perhaps Bryant's biggest reward was signing a three-year $84-million contract extension to remain with the Lakers through the 2013-14 season.
He wasn't finished electrifying the basketball world. Bryant would win his second Olympic gold medal as a member of the U.S. Men's basketball team at the 2012 London Games. In 2012-13, Bryant would make his 15th All-Star team during a season in which he passed Wilt Chamberlain for fourth on the NBA's all-time scoring list. Bryant was having what some at the time called a resurgence, in averaging 27.3 points in an average of 38.6 minutes per game for the season before rupturing his left Achilles tendon in midseason.
Bryant was still nursing the Achilles injury—a setback which has ended many professional sports careers—when in November 2013 he signed a two-year contract extension worth $48.5 million that ran through the 2015-16 season.
In December 2013 Bryant returned from the Achilles injury, only to break a bone that month in his left knee. He would be out until the season opener in October 2014. About two months later, Bryant would surpass Michael Jordan to become third on the all-time scoring list. The hard play and unrelenting work ethic would begin to take the full measure of Bryant as he was sidelined for nine months following surgery to repair his torn right rotator cuff.
Bryant was finally able to return for the 2016 season with the Lakers, who were a far cry from their championship glory. In one of the most illustrious final performances in the history of professional sports, Bryant on April 13, 2016 scored 60 points against the Utah Jazz before a sold-out and most affectionate crowd at Staples Center.
The woman who 24 years earlier had asked her father "Is this kid any good?" was left speechless and in tears after the news of Bryant's untimely death. She and Lakers General Manager Rob Pelinka would travel the following day to Newport Beach to console Bryant's widow, Vanessa, and provide some level of comfort and assurance to their surviving children Natalia, Bianka and the baby, Capri.
Out of respect for the Bryant family, the Lakers organization did not issue an official statement (at press time), but some of the biggest names in all walks of life around the world commented on the impact that Kobe Bean Bryant had not only in the sports world, but within the American social fabric.
"There will never be another Kobe," said Ervin "Magic" Johnson. "He had the confidence and the swagger even at 17 and 18. When he missed that shot that was an air ball in Utah and he knew he was coming back. That says a lot about that dude. He was like 'OK, I'll be back. Don't worry about me. I'll take it again.' [I said to myself then] 'this dude is a different cat.' But he loved being a Laker. That's one thing he always loved."