The presidential and congressional candidates: Who's still in the running?
Vote on or before March 3
Isabell Rivera and Merdies Hayes ow contributor and Managing editor | 2/28/2020, midnight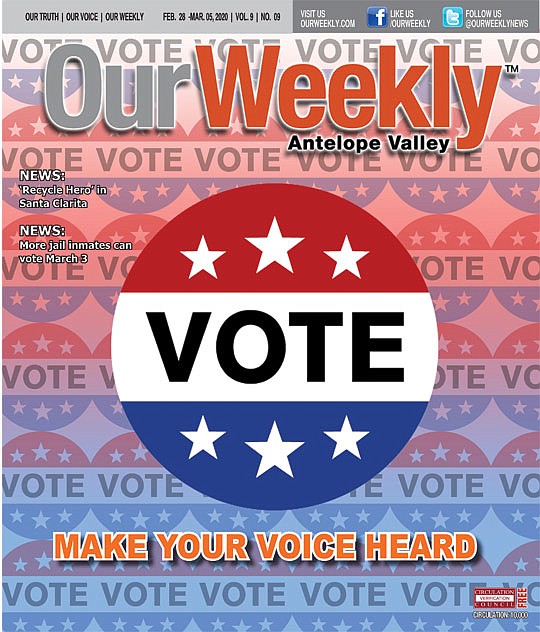 Let's start 2020 with a fresh pair of presidential candidates, as well as some familiar faces from the past.
As for the Republican candidates, President Donald J. Trump filed for re-election on Jan. 20, 2017, the day of his inauguration. Curiously, Trump's re-election odds are higher now, despite his impeachment.
From the remaining 12 Democratic candidates still in the running and on the ballot, only six qualified for the presidential debates, which are crucial decision makers.
According to www.politico.com, the top four democratic candidates at press time are:
1 Joseph R. Biden Jr.: Biden, 77, was the former vice president, working with former President Barack Obama. He previously served as a senator from Delaware.
Major issues: Biden wants to focus on rebuilding the middle class with a new tax reform; an increased minimum wage; more protections for workers; including pay transparency; free public college for everyone; as well as expanding the Affordable Care Act (aka "Obamacare").
Controversy: Biden got caught up in some controversy by supporting the Hyde Amendment —which bans federal funding for abortion and the access for people who need it the most—but he recently changed his mind and is now against the amendment. He is pro-choice, with limits. He also received some heat regarding his overly friendly expressions toward some women who later spoke against his behavior.
2 Bernie Sanders: Sanders, 78, is an Independent senator from Vermont who ran for the Democratic nomination for president against Hillary Clinton in 2016.
Major issues: Sanders is also for raising the minimum wage; he's pro-felon voting while incarcerated; and he wants farmers to adopt a climate-friendly approach. Sanders also endorses debt free colleges; universal free meals in schools; as well as pro-choice with few limits, if any.
Controversy: In 2016, several women who worked on Sanders campaign went public and accused him of sexual harassment and pay inequity.
3 Elizabeth Warren: Warren, 70, is the senator from Massachusetts who once said in a video, "If you work hard and play by the rules, you ought to be able to take care of yourself and the people you love."
She then continued with, "We can make our democracy work for all of us. We can make our economy work for all of us."
Major issues: Higher wages and free education, as well as stricter regulations for Wall Street and big corporations.
Controversy: Her DNA test to prove she has a Native American background caused some controversy and definitely backfired. A number of American voters also call her a socalist.
4 Pete Buttigieg: Buttigieg, 37, is the former mayor of South Bend, Indiana, a veteran of the war in Afghanistan, one of the youngest candidates and is openly gay.
Major issues: Buttigieg would like to abolish capital punishment; legalize weed; supports paid leave; and would like to push the minimum wage to $15 an hour. He'd also like to eliminate private prisons, fund affordable housing, and invest in rural America.
Controversy: He was criticized in 2015 for a statement he made in regards to #BlackLivesMatters, when he said that "All Lives Matter."