Candidates for LA's second district supervisor tackle tough issues
District includes roughly half of the county's Black population
Lisa Fitch Editor | 2/20/2020, midnight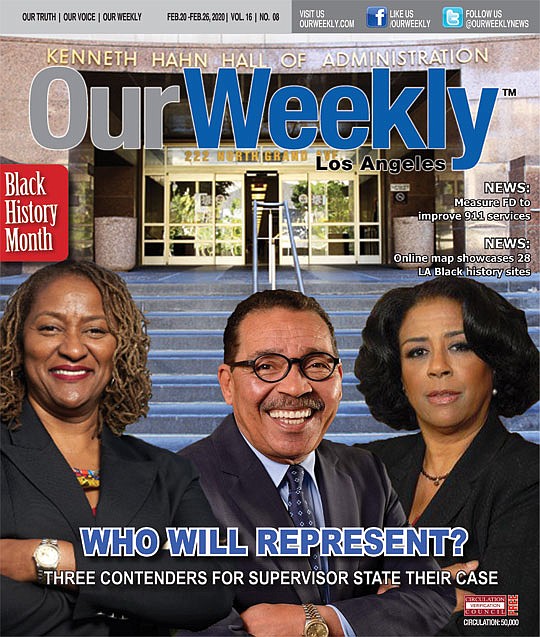 "Democracy transformed from thin paper to thick action is the greatest form of government on the earth."
—Dr. Martin Luther King, Jr.
On March 3, the constituents of LA County will vote in what has come to be known as "Super Tuesday," because the largest number of U.S. states will hold primary elections and caucuses on that date.
LA County's second supervisory district could be called a "Super District." It spans more than 150 squire miles and includes more than 2 million residents within part of LA and several unincorporated areas, plus the cities of Carson, Compton, Culver City, Gardena, Hawthorne, Inglewood, Lawndale and Lynwood.
Three well-known politicians are running for Second District Supervisor: Holly Mitchell, who is currently a California senator; Jan Perry, who was formerly an LA City Councilperson and later head of the city's Economic & Workforce Development Department; and Herb Wesson, who is leaving his current seat as the 10th District city councilman.
Our Weekly asked the candidates questions about healthcare, homelessness and human trafficking.
Holly Mitchell represents nearly 1 million residents of California's 30th Senate District, which ranges from Century City to South LA and takes in Culver City, Cheviot Hills, the Crenshaw District, USC, downtown LA and a portion of Inglewood. She was named the first African-American to chair the powerful Senate Budget and Fiscal Review Committee in 2016 and she has an endorsement from Gov. Gavin Newsom.
A member of the California Legislative Black Caucus, Mitchell recently attended a "State of Black California" event at UCLA and encouraged African-Americans to get engaged in political issues.
"I long for the day when Black people have the luxury to not engage," Mitchell said. "Black people need government as our employer, as the educator of our children, as our healthcare provider, as our houser, as our CalWORKS provider, as our SNAP provider. We still rely on government, good, bad or indifferent."
Mitchell voted for the Healthy California Act—a bill that would provide comprehensive universal single-payer health care coverage and help control the high costs.
"My plan is to ensure the Second Supervisorial District has the medical institutions it needs and to expand access to quality, affordable care," Mitchell said. "We disproportionately carry the burden of poor health outcomes—due in part to systemic racism, a lack of preventative resources and limited access to affordable and quality care."
In Sacramento, Mitchell worked to allocate $166 million in funding for the Los Angeles Homeless Services Authority, but funding is not the only solution.
"My plan to address our homeless crisis consist of one: Stabilizing our communities -- We can't just build our way out of this crisis, we must also leverage existing housing stock and stem the tide of new residents who are becoming homeless. Two: Scaling-up resources and solutions that work —This new reality demands we quickly expand and scale up our plans and projects to meet the real need. And three: Build for all -- A true plan to address our homeless crisis must include a plan to build more housing that is accessible for all income levels."