All eyes on us: D.A. race
The upcoming District Attorney's race may have implications for the justice system and America as a whole
Gregg Reese OW Contributor | 2/14/2020, midnight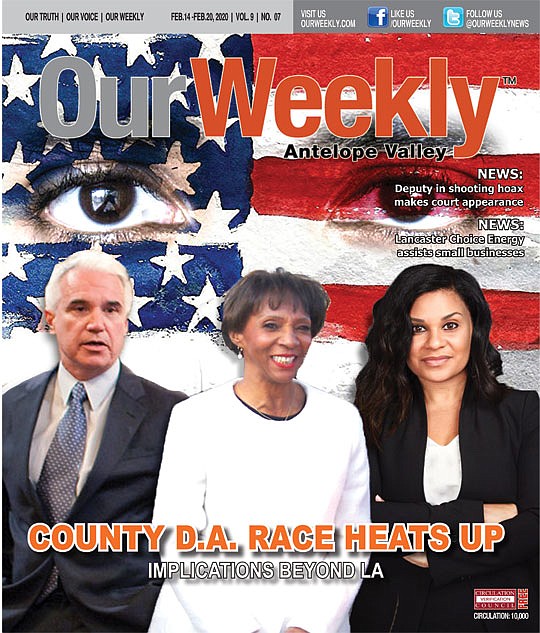 "You have young men of color in many communities who are more likely to end up in jail or in the criminal justice system than they are in a good job or in college." —Barack Obama
It was inevitable. Decades of chronic incarceration and a mushrooming population within the prison system. Plus increasing criticism from our neighbors in the global community as America— the world's beacon of democracy—has, in the past half century, gone from a bastion of refuge to the globe's foremost jail keeper.
Decades later, a non-partisan "clarion call" transcending political party appears to have settled in among dissimilar demographics and ideologies to signal the push towards criminal justice reform. This trend is taking place across the country, but a particular focus is here in Los Angeles, the epicenter of cultural and political inclinations of all inks. As its date of election (March 3) closes, the race for County District Attorney will likely have implications far beyond the sunset and smog of this fair city.
Among the three candidates, we first have the incumbent, career prosecutor and Crenshaw native Jackie Lacey, who rose through the ranks to become former D.A. Steve Lacey's deputy and second-in-command. Running for the top spot in 2012 as a progressive, she ran unopposed in 2016. Along the way, she has endured criticism for not aggressively pursuing high profile cases including the sexual assault allegations against actor Danny Masterson and yoga teacher Bikram Choudhury, and the drug related death charges on Democratic fund-raiser Ed Buck.
Her most prominent challenger, Cuban immigrant George Gascón spent his entire career within the ranks of the LAPD, rising to the rarified status of assistant chief before moving on to become Chief of the Police Force in Mesa, Ariz. then in San Francisco, before his appointment as that city's District Attorney by now California Gov. Gavin Newsome (taking the seat left by Kamala Harris as she became the State Attorney General before assuming her present position as U.S. Senator). In perhaps his most notable judicial gesture, he co-authored 2014's Prop. 47, reclassifying felony drug offenses to misdemeanors. This in turn has been credited with reducing narcotic race disparity convictions.
Lesser known is former Public Defender (federal and state) Rachel Rossi (she is of Afro-Dominican and Greek descent) who touts her experience on the other side of the (legal) aisle as just the reformist ingredient to correct the ills of the D.A.'s office. A counsel to Democratic Senate Whip Dick Durbin (D-Ill.), she has been recognized as one of the country's "top 40 under 40 lawyers" by the National Bar Association.
Into the fray
The public got a look at these competitors interacting in a debate at Little Tokyo's Aratani Theatre on Jan. 29 (se it at https://www.youtube.com/watch?v=fbYpOiaXQ74). The evening started off amicably before those opposed to Lacey began to air their emotions via catcalls ("Jackie Lacey must go") and jeers. The opposition became intense enough for security to escort the most obnoxious offenders out of the building.