Man-made pollution hazards call for 'environmental justice'
Poor communities may suffer most
Merdies Hayes Managing Editor | 2/7/2020, midnight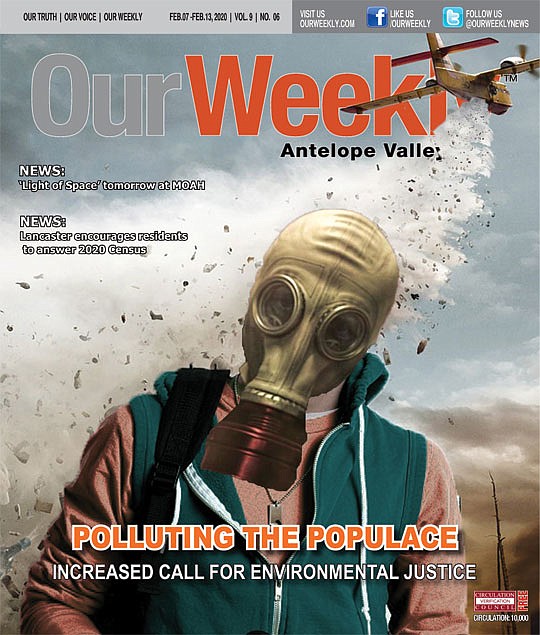 Aliso Canyon gas leak
Antelope Valley residents have for the past few years closely followed the after-effects of the Aliso Canyon gas leak at nearby Porter Ranch. Southern California Gas Co. pleaded no contest in September 2016 to a misdemeanor count of failing to immediately report the leak which continued unabated for about five months. As recent as last week, a Superior Court judge heard arguments from attorneys representing Porter Ranch residents affected by the incident who are seeking financial restitution from SoCalGas because of its delay in reporting the leak to state regulators.
To date, many residents continue to report respiratory distress, nausea and damage to the exteriors and interiors of their residences, which for months were saturated with harmful gas deposits. SoCalGas insists that there is no basis for restitution to residents based solely on the reporting delay.
"People are still sick, and their homes are still contaminated," said R. Rex Parris, attorney for the plaintiffs.
Whether you've been showered with jet fuel, or your neighborhood has been inundated with natural gas fumes, the issue of environmental justice is a growing concern across the nation.
North Carolina's Warren County is considered by many to be the birthplace of this cause. In the early 1980s, this low-income community, populated mainly by African-Africans, fought against a proposed landfill after tons of polychlorinated biphenyls, better known as PCBs, were dumped along more than 240 miles of the state's roads.
People of color affected most
The federal government had designated the area as a Superfund Site. When clean up began, the state chose Warren County as the dump site for about 60,000 tons of soil contaminated by the PCBs. When the dump site opened in 1982, it was immediately met with demonstrations of civil disobedience and protests that helped to catalyze a national movement.
The same thing occurred years later in Uniontown, Ala., another predominantly Black town. This area was selected as a landfill for dumping an estimated three million tons of coal ash spilled from a retention pond in Kingston, Tenn. Since then, the issue of environmental justice has become a flashpoint of controversy.
"Non-Hispanic Blacks in the United States suffer worse air quality across multiple metrics, geographic scales, and multiple pollution metrics," according Dr.. Marie Lyn Miranda, an adjunct professor with Duke University's School of the Environment. "Hispanics also suffer worse air quality with respect to particulate matter, but not necessarily so for ozone. It also appears that environmental justice concerns are more prominent along race/ethnicity lines, rather than measures of poverty."
Dangers of coal-fired plants
A Duke study found that persons of color are more likely to live in areas with higher amounts of air pollution, rather than poor people as a whole. Take super-dirty coal-fired plants for instance. Of the roughly two million people living within three miles of a super-polluted coal plant, about 76 percent are minorities. (average per capita income for these residents is approximately $14,626).
Black children are more likely to die from asthma-related causes. The Centers for Disease Control and Prevention (CDC) looked at this issue in 2013 and revealed that—taking into account their inner-city location—percentages of Black children who have been diagnosed with asthma and still have asthma are 21 percent and 16 percent respectively. "Today in the United States, low-income households and people of color are disproportionately affected by indoor and outdoor air pollution," according to the CDC study.