Our Weekly's year in review
Carol Ozemhoya | OW Contributor | 12/31/2020, 1:04 p.m.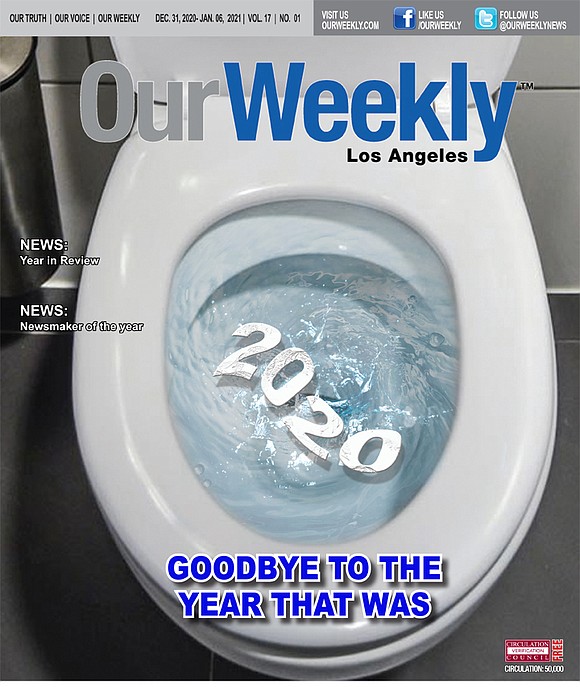 Sankofa is an African word from the Akan tribe in Ghana. The literal translation of the word and the symbol is "it is not taboo to fetch what is at risk of being left behind." It's symbol is based on a mythical bird with its feet firmly planted forward with its head turned backwards. Thus, the Akan believe the past serves as a guide for planning the future. To the Akan, it is this wisdom in learning from the past which ensures a strong future.
The Year 2020 has included some unique stories. These issues impacted all of us in one shape or form and the last 12 months reminded us that nothing is certain or concrete. Our Weekly's year-end edition features five selected stories, looking back to the year that was. Let us learn from the past and ensure a strong and happy New Year!
Death of Kobe Bryant brings sports world to tears
A family tragedy
By Carol Ozemhoya | OW Contributor
When was the last time you saw NBA legend Michael Jordan in tears, so much so that he could hardly speak? It was late January when he spoke, or tried to speak, at a service for another NBA legend, Kobe Bryant.
So many luminaries (Magic Johnson, Shaquille O'Neal, Michael Jordan, LeBron James) were there to honor the 41-year-old, who tragically died along with his teenage daughter (Gianna – 13) in a helicopter crash. It was like the whole world, especially the sports world, stopped when the news hit.
Keeper of so many NBA records, many of which Bryant pursued and broke, Jordan called Bryant his "little brother." Jordan said, "When Kobe Bryant died, a piece of me died."
At 18, before he had a chance to go to college, Bryant was seen as being so talented already, he was signed by the iconic Los Angeles Lakers. And he never let fans down.
By the date of his tragic death, he held 25 records. Some of the most touted include:
• Holding the record for being the youngest player to start in an NBA game, and then subsequently becoming the youngest NBA All Star;
• Playing in 18 All Star games, landing four MVP awards;
• Scoring an astonishing 81 points – a record – in one game;
• Scoring more points and more free throws than any other player to date, and that comes with more turnovers in guard history. That's 8,378 free throws, 33,643 points and 4,010 turnovers, all records for the guard position.
Scoring was a constant when it came to Bryant. Even at age 37, an old man's age by NBA standards, he scored 60 points in his final game as a Laker.
Those are just a few of the numbers of his stellar career. The magic, though, went beyond the digits. Watching him was like watching a highlight reel every game. He did it all: gliding in for an easy lay-up; powering through multiple players for a slam dunk; or shooting a three from the corner, the ball falling through with nothing but net.
Once a fresh-faced newcomer who had troubles in a sexual assault claim, he blossomed into a mature adult who remained active in his community as a mentor. In fact, the morning he died, he was on his way to coach his daughter's youth basketball team.
Bryant also was on his way to a career in film. He had produced a documentary called "Dear Basketball," which won an Oscar for Best Animated Short Film. With a wife and three children, and lots of money, Bryant could have sat back and enjoyed the fruits of his labor and love for basketball. But the baller had developed other interests beyond the game, including making animated films and listening to Beethoven. In fact, according to the New York Times, in one of his many championship games, Bryant structured his performance and the strategy of the game to the rhythms of Beethoven's Fifth Symphony.
COVID-19 drives California to shut down, again
Trump ignored alarms
By Carol Ozemhoya | OW Contributor
Congress and the president were briefed by early 2020, with President Donald Trump reportedly given a dire prediction on the dangers of COVID-19 as far back as November 2019. But no one on record started a serious alarm until March, when people started dropping like flies, literally.
Although the country began an immediate shut down (almost all businesses and schools closed), Trump and his administration continued to deny the virus' negative impact and highly volatile danger to people. He still held rallies and went to events unmasked.
By mid-summer, the virus was responsible for more than 200,000 deaths and millions of people infected, and those numbers continues to climb unabated. By Dec. 12, news agencies were announcing the U.S. was having its worst time ever.
The virus wasn't picking on any one demographic; professional athletes (Kevin Durant, Cam Newton), Hollywood stars (Idris Elba, Vivica Fox, Tiffany Haddish) and white collar and blue collar workers were filling hospital beds, and… dying.
Ironically, one of Trump's Black political supporters – Herman Caine – contracted the virus and died, allegedly after attending one of Trump's outdoor rallies. Just a couple of weeks ago, Country music legend Charlie Pride also passed from COVID-19. And Trump was diagnosed with it at one point and was checked into the hospital, where he was treated with highly focused care and drugs still in the experimental stages. Yet, he was still defiant about the pandemic and at one point, asked the Secret Service to drive him through the streets of our nation's capitol, while not wearing a mask.
For awhile the infection and death rates seemed to start to get under control and certain businesses and schools were allowed to re-open with new rules aimed at keeping the situation from spreading. But recently, COVID-19 has reared its ugly and deadly head at a rapid and alarming rate.
According to the New York Times on Dec. 11, that week was one of the most devastating in the U.S. since it all began nine months ago. A national single day record of new cases was reported with hospitalizations topping 100,000. Medical centers in major cities were reporting that they were at capacity, with some even turning some COVID-19 cases away.
In California, a severe uptick began in late November after it was reported that the virus was on a downturn in mid October. A lockdown was ordered (closing restaurants and other small businesses), especially in Southern California and the San Joaquin Valley. The "New York Times," reported on Dec. 12 that California was reporting more than 21,000 new cases a day, twice as many as the worst point during the summer.
Recently, it was reported that there were only nine beds available in San Diego alone. According to the "New York Times," More than 10,000 COVID-19 patients are now hospitalized in the state, more than 70 percent over what it was at the end of November. "That the virus soared back is a cautionary tale," the paper said. "a sign that California let down its guard."