A 'different Christmas' will test faith among Black Christians
Finding shelter during the 1918 Spanish Flu and 2020 coronavirus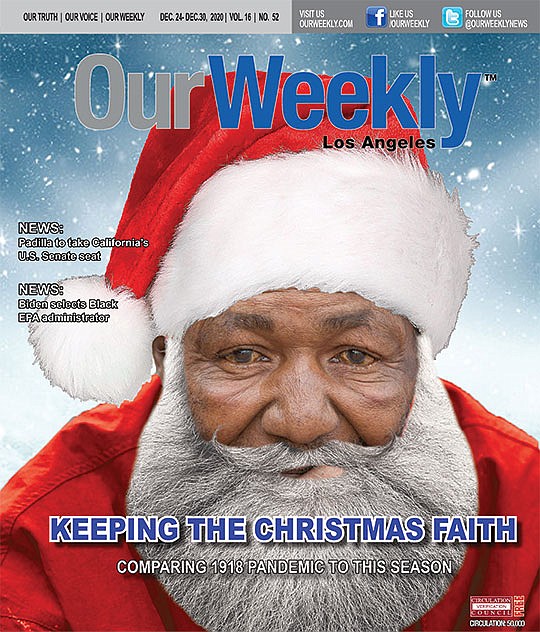 It's a different Christmas this year. Christians around the world are navigating the pandemic while trying to maintain resolute trust in Jesus. It's a test of faith widely not witnessed in 102 years.
Then, like today, it is challenging to give witness and carry out the Lord's work when experiencing anxiety. It can be difficult to profess the Good News when feeling weary. Those who are sick or shut off from loved ones must find consolation and assurance via their faith.
When it came to healthcare during the 1918 influenza pandemic, America's Black community of faith—already hobbled by poverty, Jim Crow and rampant discrimination—were mostly forced to fend for themselves. On Christmas Eve more than a century ago, opportunities for Blacks to receive hospital care proved scarce, leaving many to rely on the Church, family care and, where available, the small but burgeoning ranks of Black nurses.
Segregation as a "quarantine"?
Despite the odds back then, some research has suggested that African-Americans may actually have been less susceptible to catching the so-called "Spanish Flu." One theory that has been advanced is that segregation functioned somewhat as a quarantine. Black people didn't interact as much around non-Blacks.
Pandemics have almost always disproportionately affected Black, indigenous and Latinx people more so than the larger community. The 1918 pandemic—unlike today—may have been a bit of an anomaly from an epidemiology perspective.
While African-Americans were (supposedly) less likely than White Americans to contract the disease, they were far more likely to die from it. One reason suggested by historians is because Black people received substandard care in segregated hospitals—if they could be admitted. Not many hospitals then would accept Black persons, and those that did sent them to a cold, dark and dank basement for care. Once there, they likely prayed and languished in rooms unintended for patient care, received neither the full resources nor timely medical attention White patients received in the main wards, and generally suffered and wasted away until dead.
Few hospitals for Black patients
Only a small number of Black hospitals existed at the time. They included Freedman's Hospital (now Howard University Hospital) in Washington, D.C.; Provident Hospital in Chicago (the nation's first Black-owned and operated hospital); and Lincoln Hospital in New York City. Each of these facilities pioneered in the training of Black doctors and nurses, but they tended to be woefully understaffed and under-resourced, relative to White hospitals.
Chicago became a natural destination point within the second Great Migration of African-Americans. Blacks were fleeing the violent racism of the South. When they arrived in the north, they were not greeted with affection. Showing up during a deadly pandemic made their plight even worse. Nonetheless, they soldiered on, not knowing what trials and tribulations would lay before them both in the form of White racism and a deadly pandemic—both of which would pose severe challenges to their faith.
The 1918 holiday season would find most African-Americans being treated for the flu in their homes by family members and midwives. The cramped and difficult living conditions driven by poverty, racism and discrimination made caring for loved ones—and avoiding the spread of the infection—very challenging.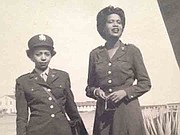 Black nurses fill the void
Health historians paint a picture of heroic efforts by handfuls of Black physicians and nurses working to serve their community. Michelle Ogunwole, a general internal medicine fellow at John Hopkins Medical School, noted that Black nurses played a major role in care for the stricken community.
After the U.S. entered World War I, the Army and the American Red Cross turned Black nurses away when they tried to volunteer. "By the time the flu came around, there were almost 3,000 Black women who had top-notch training that rivaled those of White nurses," Ogunwole explained during a recent "History Channel" interview. Historians also acknowledge the role of Black education and prevention, and in mobilizing local volunteers. In Chicago, for instance, the National Urban League instituted grassroots neighborhood programs to try to help city-dwelling Black residents. In Columbus, Ohio, the Urban League would hire a trained nurse to provide free home care to influenza victims.
At the war's end in November 1918, Baltimore's Black community was particularly hard hit with higher infection rates than other big cities. Black cemeteries there were reaching capacity and caskets were piling up. Eventually, more than 300 Black soldiers were dispatched to fulfill, what Ogunwole said was "the most undesirable, gruesome and most labor-intensive jobs" in caring for the dead.
Houses of worship closed
Obviously, the outlook for the 1918 holiday season was anything but "happy." The sudden and fast-moving pandemic was devastating families.
Prudential Insurance had paid out more civilian death claims than those of the war dead. Local health departments ordered schools, playhouses, dance halls, picture shows ("flickers" as they were called) and other gathering places off limits. Black churches were initially closed.
Houses of worship, like today, were a holiday staple for African-Americans. Choir concerts, both in church and at other gathering places, were in jeopardy. Between the war losses and the deaths caused by the pandemic, the Black community needed comfort more than ever. That could only come through gathering with others and sharing another's pain and burdens. Sadly, this was not possible.
Instead of a time of joy, lit candles, festively decorated trees, parties and the echo of holiday songs, silence reigned—born of the isolation forced by the pandemic.
Black priests and pastors of all denominations felt the need to comfort their flocks, particularly during the holy season. Their very presence, however, could bring illness directly into the homes of their congregation members. No one was sure if Advent's holy season of silence, darkness and waiting would yield to the light of Christmas.
News archives reveal that, at least from October through December 1918, people weren't necessarily heeding the warnings to avoid one another. There are plenty of stories about family reunions and hostesses serving dinner to more than just a handful of guests. One YMCA in Fargo, N.D. reported "good attendance" for the first Christmas
party following the war. Ads then suggested people continue shopping as usual, with the only perceived nod to the pandemic being a suggestion of the practicality of handkerchiefs as Christmas gifts.
Media avoided "negative news" of pandemic
It would be a similar tale in most newspapers and magazines nationwide. Many stories and columns stressed the need to help the poor, the shortage of Christmas trees, and more practical gift items (scarves, muffs, gloves, etc.) to help prevent contracting the flu.
Unlike today, there was far less information about what the individual can do to protect themselves and family and friends. By and large, in the fall of 1918 the media avoided publishing negative news because the war was in progress and they didn't want to stir a panic among the public.
By the end of the pandemic, an estimated 50 million people worldwide (including 675,000 in the United States) had died. By Christmas 1919, some semblance of normalcy had returned. African-Americans were more than happy to put the post-war, pandemic Christmas of 1918 in the back of their memory.
Health officials today have avoided comparisons between the 1918 outbreak and the current health crisis in reference to community life, such as church services. Government officials then had called for a halt to public meetings (i.e. attending church) with a number of pastors sending their sermons to local newspapers to print. One enterprising pastor in Los Angeles had Boy Scouts deliver Sunday School lessons to his congregation. Other pastors encouraged their flocks to meet in their homes, much like the early disciples did.
"Social interaction" easier today
Like today, some churches protested restrictions on indoor services. Others got around them by meeting outside, including the First Baptist Church of San Francisco whose holiday service was titled "The Spanish Influenza: One of the Last Plagues."
As we navigate the present pandemic, African-Americans struggle to foster social interaction while maintaining physical distance. There are far more tools available today, like smartphones and social media, that our grandparents and great-grandparents didn't have access to a century ago.
During this holy season, Christians can use these new technologies to reach out to others during these difficult—but not unprecedented—times. The gift of Christ withstands all challenges.