Gospel choir Praizum to be featured in LA County Holiday Celebration
Virtual, three-hour music and dance event broadcasts and streams Christmas Eve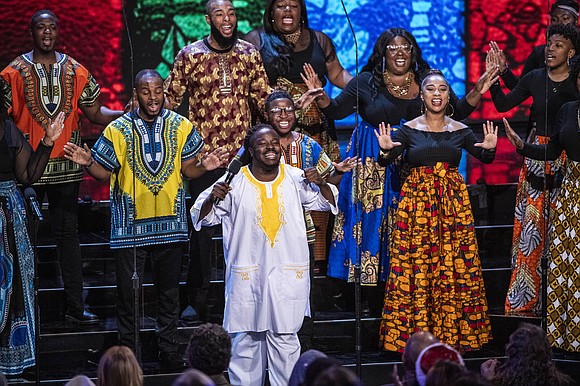 Lorenzo Johnson & Praizum plan to harness the heart and soul of these times through music at the 61st Annual L.A. County Holiday Celebration. Filmed on location at both The Music Center's Dorothy Chandler Pavilion and Jerry Moss Plaza and at sites around Los Angeles County, the three-hour showcase of 22 L.A.-based artists will air on PBS SoCal starting at 3 p.m. on Christmas Eve and simultaneously stream on pbssocal.org/holidaycelebration, kcet.org and Holidaycelebration.org.
PBS SoCal will air an encore presentation of the celebration Dec. 24 at 7 p.m. and KCET will rebroadcast the show on Christmas Day at noon.
Under the direction of Johnson, Praizum, with chorists from churches across Southern California, will perform the hymn, "Only Believe" followed by the holiday classic, "Silver Bells."
A production of The Music Center and PBS SoCal in association with CDK Productions, the Emmy Award-winning holiday show features choirs, music ensembles and dance companies representing the many cultures of Los Angeles.
Highlighting the county's rich creative diversity, the broadcast will also include five mini documentaries featuring artists from different neighborhoods as well as performances on location at key landmarks, including Korean Bell of Friendship in San Pedro and Angel's Point in Elysian Park. Given COVID restrictions as outlined by the Los Angeles County Department of Public Health, and the commitment to keeping artists and the public safe from community transmission, the performance is presented without a live audience this year.
"The holiday season is about spreading joy and goodwill to all, which is so important this year, and we'll do that with a special broadcast of beautiful and uplifting performances that showcase the talents and diversity of Los Angeles." said Rachel S. Moore, president and CEO, The Music Center. "This broadcast and streaming event truly is a 'celebration' of Los Angeles—of resiliency and of community—that we all can take pride in from the comforts of our homes."
Hosted by acclaimed American mezzo-soprano Suzanna Guzmán and actor/producer Brian White, the 61st Annual L.A. County Holiday Celebration offers Angelenos of all ages the opportunity to experience and honor the dynamic, rich cultures of the county.
Some of this year's performers making their Holiday Celebration debut include an ensemble from the American Youth Symphony, a dance and music collaboration from Ballet Folklorico de Los Angeles with Mariachi Garibaldi de Jaime Cuéllar, French-Chinese chanteuse Jessica Fichot, barbershop quartet Noteable and country-music trio Sean Oliu and The Coastline Cowboys.
The show's traditional finale of "Silent Night" will be a virtual collaborative performance, featuring Southern California Brass Consortium with a community choir composed of many singers from this year's roster of performers.