Kamala Harris is Biden's pick for running mate in November
Junior senator first Black woman on major presidential ticket
8/14/2020, midnight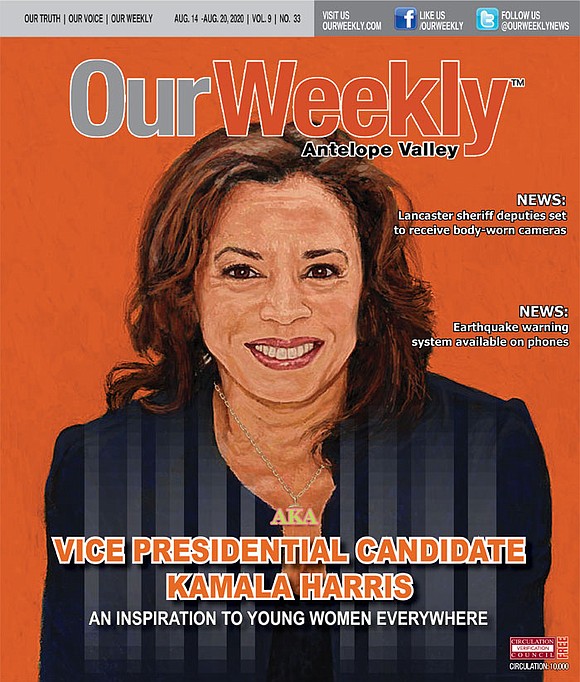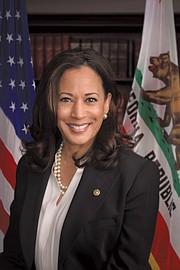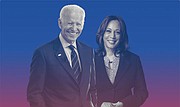 Former vice president and presumptive Democratic presidential nominee Joe Biden this week selected Kamala Harris, the junior senator from California, as his running mate in the November 2020 presidential election.
"I have the great honor to announce that I've picked [Harris] a fearless fighter for the little guy, and one of the country's finest public servants as my running mate," Biden announced on his Twitter page on Tuesday afternoon.
Biden vowed during a primary debate in March that he would pick a woman as his running mate. Harris is the first Black woman to run on the ticket of a major political party.
Harris early last year centered her unsuccessful bid for the White House on a promise to "prosecute the case" against President Donald Trump and was widely viewed as the front-runner to be the vice presidential pick. As the former California attorney general with four years in the U.S. Senate, Harris was reportedly among the most conventionally qualified among the half-dozen or so women under consideration in a diverse field of contenders.
"I need someone working alongside me who is smart, tough, and ready to lead. Kamala is that person," Biden wrote in an email to supporters.
Harris, 55, is considered by political watchers as a "safe pick" who has broad support within the Democratic Party and is well acquainted with the rigors of a national campaign. Her selection also carries great symbolism at a national moment when race relations are at the top of the mind for African-American voters. Harris is of Jamaican descent and had a highly publicized confrontation with Biden over race relations during the primary season.
Harris' selection is not without risk. Her White House bid was fraught with inconsistencies and her record as a prosecutor has at times elicited controversy, particularly as attitudes on mass incarceration, the "school-to-prison" pipeline and law enforcement have become front and center this summer. The murder of George Floyd by police in Minneapolis, Minn. resulted in protests not only at home but around the world.
In recent months, Harris has more forcefully embraced criminal justice reform, but faces a level of political distrust among the Democratic Party's more progressive flank, more specifically among younger voters of color.
Many believe that Harris' swift rise in national Democratic politics has the potential to position her as a future leader of the party since Biden would be 78 when sworn in. Biden said his selection of a running mate would be a "simpatico" governing partner and someone ready to assume the Oval Office "on a moment's notice."
"It's overdue and it's tremendous," said Angela Rye, a former executive director of the Congressional Black Caucus. "Kamala is not a stranger to making history. It's poetic justice that she would be making history here. Hopefully, [this] signifies a tremendous shift in the Democratic Party by finally recognizing how important Black people—and specifically Black women—are to the base. We don't just mobilize the Black community...we mobilize the party overall."
Harris, who also served as district attorney in San Francisco before becoming the state's attorney general, was barely halfway into her first term in the U.S. Senate when she jumped into the presidential race. She had several high-profile prosecutorial interrogations of Trump administration officials in Senate hearings. This was highlighted by her brisk confrontation with then U.S.Attorney General Jeff Sessions in 2017 about his alleged interactions with Russian officials during the 2016 presidential campaign.
After the selection was announced, Harris wrote on Twitter: "Joe Biden can unify the American people because he's spent his life fighting for us. And as president, he'll build an America that lives up to our ideals. I'm honored to join him as our party's nominee for vice president and will do what it takes to make him our commander-in-chief."
Rep. Maxine Waters, (D-43), wrote on Twitter that Biden hand-picked an historic selection.
"I believe that the two of them together will respect and honor our constitution, strengthen our democracy and economy and work for a good quality of life for our children and families."
California Senate President pro Tempore Toni G. Atkins (D-San Diego) released the following statement:
"I am thrilled Joe Biden picked Senator Kamala Harris to be his running mate. From an amazing final group to select from, Vice President Biden has created a historic ticket that will lead to the kind of White House we've been waiting for. As U.S. senator and attorney general, Kamala Harris served California with strength and compassion. Those are the qualities she will bring to her service to the nation as vice president."
Mayor Eric Garcetti agreed.
"She is passionate. She is powerful. She is brilliant. She is compassionate." said Garcetti, the national co-chair of the Biden for President Campaign and co-chair of the campaign's vice presidential selection committee. "Kamala Harris will help Joe Biden unite the American people, restore our nation's soul and rebuild our country so it's even stronger than it was before."
Derrick Johnson, president of the NAACP emailed supporters following Biden's pick of a Black woman as his running mate.
"Regardless of party affiliation, every American should be proud that this milestone was finally reached," Johnson wrote. "While we do not support a political party, we recognize the overwhelming significance of this moment and what it means for this nation."
The selection ended hopes of Rep. Karen Bass (CA-37) of becoming the vice presidential candidate. The fellow Californian was among those being vetted for a spot on the ticket. Bass wrote in a tweet that Harris "is a great choice for Vice President."
"Her tenacious pursuit of justice and relentless advocacy for the people is what is needed right now," Bass added. "Now all Americans will benefit from her work as Vice President. I will do everything I can to help her and @JoeBiden win in November."
County Supervisor Mark Ridley-Thomas issued a statement:
"I want to congratulate Sen. Kamala Harris on being selected as former Vice President Joe Biden's running mate. We are in an unprecedented moment in time where the world around us is changing and we need bold and decisive leadership. I'm pleased to have collaborated with Sen. Harris and call her a friend. As one of our country's finest public servants, her historic selection represents an opportunity to set in motion a vision of America for which we have long fought."
The Los Angeles County Democratitc Party also released a statement:
"From Shirley Chisholm, to Carol Moseley Braun, to Hillary Clinton, Democratic women have been our party's backbone," said LACDP Chair Mark J Gonzalez. "I'm thrilled that our US Senator, Kamala Harris, has been selected as our party's nominee for Vice-President alongside Joe Biden. The daughter of immigrants, Senator Harris' long, distinguished career not only as a public servant fighting for justice, but her continuous fight for working families all across our country is exactly what our nation needs in this crucial time."
In 2017, Harris was sworn in as a United States Senator for California, the second African-American woman and first South Asian-American senator in history. She serves on the Homeland Security and Governmental Affairs Committee, the Select Committee on Intelligence, the Committee on Environment and Public Works, and the Committee on the Budget.
Lisa Fitch contributed to this story.